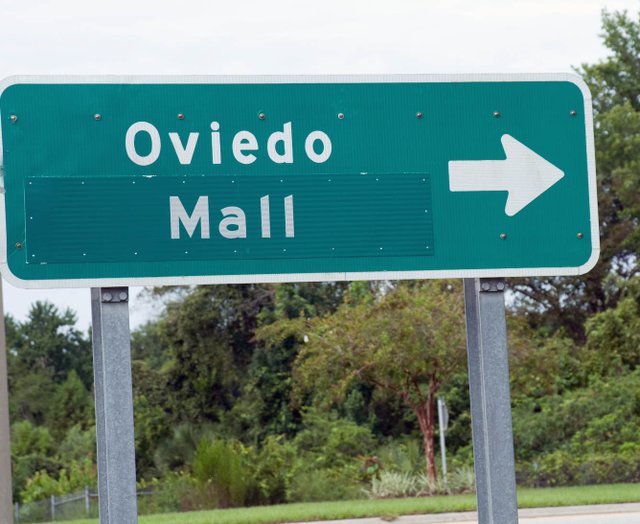 An earlier version of this story stated that the Oviedo mall was part of GGP's spinoff company, Spinco. The Oviedo mall has since been taken off the Spinco's property list and will remain with GGP.
A small change can make a world of difference.
That's what the Oviedo Marketplace merchants are hoping for with the replacement of the word "Marketplace" with "Mall" on the signs at the Red Bug Lake Road exit of Highway 417.
Jim Pridemore, president of the Oviedo Marketplace Merchants Association, said that for the last 11 years, when travelers saw the word "Marketplace" they thought it was a farmers market, which led many to pass the shopping mall by.
"I know that for a good five years, I had many customers and friends and merchants share the same concern that they wanted that sign changed," Pridemore said.
He was particularly worried that Europeans and Canadians would misconstrue the meaning of the sign and then pass it by on their way to the theme parks from the Orlando Sanford International Airport. Now he hopes they will know there's a place to shop off Red Bug Lake Road. He said locals will also get a constant reminder to support their local retail center, which has been struggling in a dismal economy.
The word change happened on both the southbound and northbound approaches to the exit, including at the exit itself. There's also a mini directional sign once you get to Red Bug Lake Road.
At first, the Seminole County Expressway Authority wanted the city to pay for new signs, which would have cost about $17,000 each, for a total of $68,000. But the city can't spend public money on private interests, said Oviedo engineer Tom Radzai, who spearheaded the project.
"We worked back and forth and ended up doing an overlay," Radzai said. "We just took a piece of sign and put a label on that and attached it to the existing sign."
The price was right, thanks to Eric Gordon at Florida's Turnpike Enterprise.
"They didn't even charge us anything," he said.
Oviedo Mayor Dominic Persampiere got the ball rolling on the project about a year ago.
"Anything the city can do to help the mall out," he said. "I'm just happy we were able to get this done. I wish we could have gotten it done a bit quicker."
Pridemore said he suggested it to mall management for the past three years, but it didn't go anywhere. Then he found out he didn't need the management's permission to make the change because the mall doesn't own the signs.
"I don't think they didn't want to do it, but it was not high on the local manager's priority list," he said.
New management
The Oviedo Marketplace is managed by its owner, General Growth Properties, which is undergoing Ch. 11 bankruptcy protection.
On Wednesday, GGP registered a spinoff company, Spinco, which will become a separate company from GGP and will gain control over a group of properties, according to an Aug. 18 SEC filing. The Oviedo mall was originally in this group, but was taken out. The Altamonte Mall, another GGP property, was never on the list.
Brookfield Asset Management, one of several investors helping GGP exit bankruptcy, will initially run Spinco.
Merchants had hoped that under Spinco, they could convince the new management that continuous and reoccurring community events held there are the key to turning things around. Pridemore has been pushing management to hire a full-time event coordinator, and he said that if Brookfield came in, he would solicit to fill that position himself.
"I've basically been doing it for a year and a half anyway," he said with a laugh.