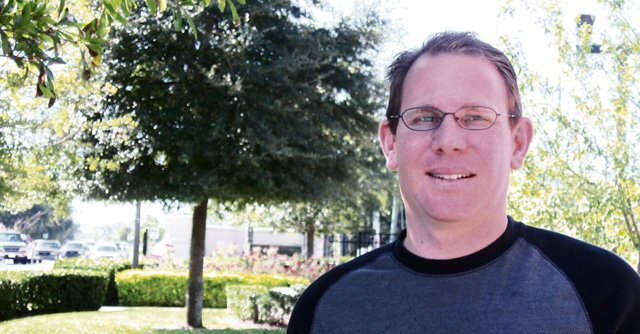 On the surface, the two community leaders seem worlds apart.
Sally McGinnis grew up in southwest Florida before the Civil Rights movement. McGinnis' father, a district attorney, influenced her lifetime passion for social advocacy.
Cade Resnick was born in South Africa four decades later and moved to southeast Florida when he was 15. Resnick studied psychology, history and conflict resolution.
McGinnis finished her second Winter Springs City Commission term and Resnick took her place. They find common ground advocating for the citizens.
"More people should get involved in their local government," McGinnis said. "I am happy to see Cade on the Commission, because I know he understands the importance of public service."
Meet your new commissioner
Resnick has been a Seminole County teacher for 10 years, teaching social studies at Lyman High School for the last five. He navigates and negotiates issues with students, parents, community and unions, garnering him valuable experience in mediation and problem solving. He has a master's degree in psychology and is working on his PhD with focus on community negotiation and conflict resolution.
Resnick listens and learns from his students, he said.
"The best part of teaching is when you see the enjoyment students get from learning new information. It is great when my former students came back and say 'I learned that in your class and I used it.'"
Resnick is big on transparency.
"Success in communication occurs through transparency," Resnick said. "I want to serve the people by getting community feedback, sharing information and making myself available. As a listener, you hear more and stay in tune with the pulse of the public."
Cade plans to follow in the current Commission's path by focusing on economic development to rebalance the residential and commercial tax base.
"There are empty parcels of land along State Road 417 that can be developed, and the Winter Springs Town Center still has two more phases," he said.
He also hopes to provide a wheelchair accessible soft track at the senior center. By networking with the Winter Springs directors, Resnick hopes to bring ideas to the Parks and Recreation Department and see more task forces and economic development plans.
"I will try to attend HOA, community and police meetings to share ideas and listen to feedback. The city has a good foundation — we need to maintain its current model and enhance what is there; we can strengthen it as a team," he said.
McGinnis had some advice for Resnick: "I think he is going to be a really good commissioner," she said. "He just has to be careful in balancing his time, because this job will take as much time as you will let it."
Resnick and wife Shawna enjoy spending time with their 4-month-old son, Aiden. Shawna, who teaches middle school, describes her husband as "the hardest working man I've ever met."
Salute to outgoing leader
McGinnis enjoyed a career in public service in Baltimore until a house fire motivated her and her husband to move to Winter Springs and retire. She got involved with her homeowners association and soon was serving on local boards and committees. Last month, she finished her second term on Winter Springs City Commission.
McGinnis is proud of the city's fiscal stability, crediting outstanding staff efforts that resulted in no layoffs and no interruption of services even during the tougher economic times. She admits that nothing happens fast in government, but commends city staff on their tireless efforts to obtain grants. She cites the dog park as a community initiative that citizens championed for more than a decade.
"This park was a study in perseverance. When the park finally happened, the dogs of the original advocates had died," she said. "But the citizens never wavered, and the park is a nice amenity that people use in great numbers." She describes the city's beautification projects as "the envy of our sister cities."
Former Mayor John Bush referred to McGinnis as the conscience of the Commission because she often brought fresh perspectives to Commission discussions.
McGinnis said that community involvement has increased over her tenure.
"On every street there is a leader. People of all walks of life find themselves standing up and speaking — that's public service."
Now that her term is over McGinnis says she will enjoy doing nothing, as well as visiting family around the country. She still plans to advocate for social issues.
"I've always worked with nonprofits — it's part of who I am," she said.