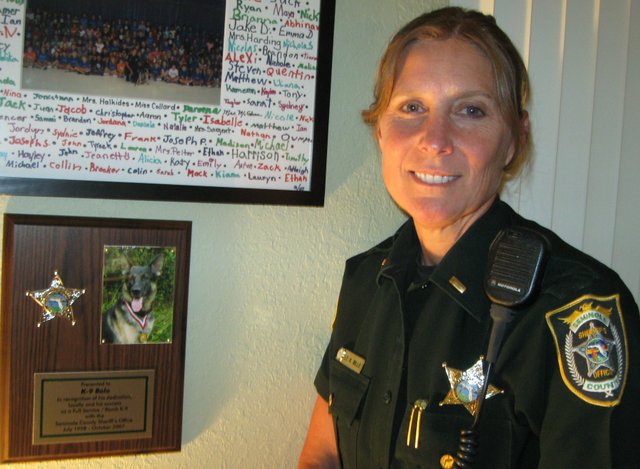 Lt. Karen Mills, Commander of the East Region, Seminole County Sheriff's Office.
Teenager Karen Mills discovered a career by listening to her best friend's father tell stories of cops on the beat.
"I never thought about the danger. It was all about helping people," said Mills, Commander of the East Region, Seminole County Sheriff's Office.
Twenty-four years later she oversees one third of Seminole County's uniformed law enforcement division comprised of 100 personnel including Deputy Sheriffs, COP volunteers, sergeants, field officers, and investigators.
Mills is even-tempered, talks respectively even to the bad guys, but her phone, radio, asp, taser and pistol are always within reach. Her office is lined with trophies and honors, including the prestigious Diana Turner Award of Excellence Female Officer of the Year in 1993.
Mills' canine partner BOLO rode with her for nine years working many potential bomb threats after 9-11. They were welcome participants at the schools' DARE programs. Her loyal partner has passed away, and at times she can still hear the clink of his collar chains.
Mills' career advice to young women considering law enforcement, "Don't try to be one of the guys. Be yourself, stay mentally strong and well trained using all the tools available. "
Fire Chief Leanna Mims, Seminole County Fire Department
Fire Chief Mims is part of a select group. She is one of only six female metro fire chiefs nationwide. At 17 she became a volunteer firefighter and remembers arriving on an accident scene as a new EMT. "It was chaotic but being able to intervene, I realized what I wanted to do."
Mims said fire services have changed from the traditional picture of a fire truck and Dalmatian to an all-hazard emergency response operation which includes medical, auto crashes, special hazards, spills and technical rescues.
"You never know what you'll walk into," said Mims, whose responsibilities include 400 personnel, 18 stations, and 28,000 service calls annually.
"It's not about being the woman in charge, you have to set vision and communicate that to key people, empowering them to be leaders. It's not a one-person show."
Command structure and chain of command is critical. "It's imperative we respect it, otherwise we risk losing the edge in a chaotic situation," she said.
She admits that drops in funding and resources can affect morale.
"I have to always think about what we can do to take care of the team who takes care of the community," she said.
Her career advice to girls: "Find something that bothers you and try to fix it. No matter what career you choose, keep your principles and never give up your integrity."
Mark Oakes, SCFD Assistant Chief of Operations said Mims had a lot on her plate when she became chief.
"During her tenure, Chief Mims has had to take a quickly changing organization and reshape it to prepare for the future while maintaining and building traditions," Oakes said.
Maria Santana, interim director of University of Central Florida's Women's Studies Program, believes the keys to success for young women in any career are leadership and communication. Girls under 8 years old are vocal and enjoy being noticed. But later they doubt themselves, become uncomfortable in leadership and are bombarded by media influences.
"We need to cultivate strong hearts and minds so they can be empowered at whatever career choice they make regardless of gender. Programs like Girl Scout and the UCF Young Women's Leadership Program can give them confidence. I believe our girls hold great promise."
Chief of Police Val B. Demings, Orlando Police Department
Florida State University Criminal Justice major Val B. Demings viewed police work as a way to pay for law school but she quickly realized that rescuing others was her calling.
Patrolling the streets, she learned a fundamental truth she shares with recruits today. "When people are in crisis, they call us to make things right, that's what I love about what we do."
Her historic appointment in December 2007 gives her responsibility for over 1,000 personnel including 750 sworn officers. In her 26th year in law enforcement Demings strives to create an environment where the community is engaged and people are motivated to do their best.
Her career advice to young women, "Don't focus on who is in the field, focus on preparing yourself through education, training and volunteer opportunities, like our Explorer/Cadet program for example."
How does Demings stay balanced? "I refuel with meditation, yoga, worship and strong support from close friends and family."
Lt. Jennifer Jenkins Commander of the North Region, Seminole County Sheriff's Office
New Jersey native, Lt. Jennifer Jenkins was fascinated with police work and followed her brother into law enforcement. After moving to Florida she worked undercover in the high schools with the Seminole County drug unit. "That was great training for me, it taught me how to self-manage and understand how quickly things can change," recalls Jenkins, who was promoted to Lieutenant in June 2009.
Her bright smile portrays a woman who loves her job. "I truly enjoy being with my team. My goal is to get everyone to their career goals," said Jenkins. She advises young girls, "Follow your dreams."
SCSO Captain Dennis Lemma commented on his lieutenants, "They have phenomenal dynamics and are compassionate leaders who put the best interests of the citizens and their team above their own."