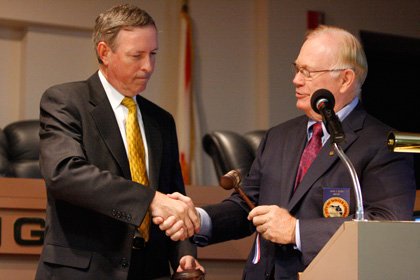 The economy was everything in the Winter Springs mayoral election that wasn't.
Though platforms briefly found a spotlight in the short period in which two candidates vied for the position, not much needed to be said after challenger Charles Lacey became the victor by default when incumbent Mayor John Bush pulled out of the race.
Now that he's stood at the podium to take oath, Lacey stands on the precipice of history.
Everything he does from now on will shape Winter Springs' future. He already plans to make those first changes in the business world. It's just a question of how, and when.
"My principal focus is economic development and to increase the city's commercial tax base," the former Oviedo-Winter Springs Regional Chamber of Commerce president said.
"There are two ways to bring in more revenue — raise tax rates or increase the tax base — and obviously, we don't want to raise taxes.
"We currently have an ad valorem base of $1.7 billion and about 88 percent of that is from the residential property owners."
Just like in a game of SimCity, balancing residential, commercial and industrial areas is key to sustaining the city. Asked about business opportunities in the already well-developed city, his thoughts turn eastward to the city's border with Oviedo, where his own city's economic future may depend on an outstretched hand from both sides of the State Road 417 corridor.
"A big opportunity is to develop the Seminole Way interchange on the west side of State Road 417 corridor," he said. "If we properly develop this opportunity, we could realize another $1 billion in revenue, which would bring our tax base to $2.7 billion."
The extra money could give the cash-strapped city economic breathing room and allow for more perks for residents.
"This would give relief to residents and still give us money left over to increase our parks, recreation and trails systems," he said.
He said that keeping residents happy while building the economy will help the city stay on Money Magazine's "Best Places to Live" list.
"Winter Springs continues to have a strong financial base and even through tough economic times, the city has not had to lay off employees or give up services," he said, adding that he hopes to continue that trend.
Bush ends tenure
Handing him the metaphorical key to the city, outgoing Mayor John Bush had a big hand in putting the city on Money Magazine's radar, though he remained humble in his accomplishments after his two most recent terms on the dais. It took a lot of effort, he said.
"In my 11 years as mayor and in the past eight consecutive years, I've tried to be there for the city and have served on dozens of committees, groups and forums representing both the city of Winter Springs and, at times, all the mayors of Seminole County," he said.
But his tenure didn't end without regrets. Though he presided over the city as the Cross Seminole Trail completed its journey through most of Winter Springs, he didn't get to see it to the end, though he's optimistic it'll be finished soon.
"It takes a long time to complete all the paperwork and work with CSX railroad but I think it will get done within the year," Bush said.
Downplaying his individual role as mayor, he pointed to the Commission's efforts as key to keeping the city moving forward.
"Nothing in the city happens by one person — it is a collaborative effort," he said.
Collaborating within the city and with Oviedo and the University of Central Florida will go a long way toward sowing the seeds of all three entities' economic futures, he said, and that's something he's hoping there will be more of a push for in the future.
"I really wanted our commission to become more aware of economic development," he said. "We have some business people on our commission who understand that, and we have supported the UCF Business Incubator which is, and will continue to be, very important.
"We will also form a joint economic committee with the city of Oviedo and will be branding ourselves as the Twin Cities," he added. "I also want to see the SeminoleWay project revved up and worked on."
Though he's leaving the mayor's post, he's by no means retiring. The longtime computer software consultant said it's back to work for him, though he'll be continuing to work with the city to forge more economic development.
Economic development may be his proudest achievement, taking a city in the shadows of a bustling county, and giving it a spotlight.
"One of the most satisfying things just happened at the Good Morning Seminole meeting where the guest speaker spoke about the economic outlook of Seminole County, and he mentioned Winter Springs and Oviedo numerous times," he said. "I felt so good because the eastern part of the county is not always mentioned or thought about in terms of businesses — most of the county's business lies in the western part of the county."
With the city now in Lacey's hands, Bush said he's confident the city has a bright future ahead.
"I expect Charles will take up where I left off, with a different approach, of course, and I support him; he is a good guy," Bush said.