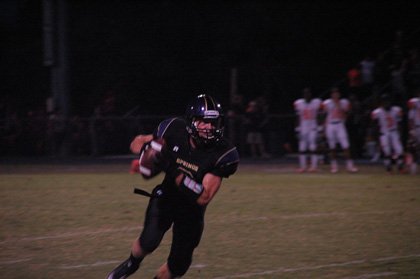 After trouncing Lyman the week before, Hagerty felt the pain of defeat against a tough Seminole team that wouldn't stop scoring.
The Huskies fell 28-14 after watching a highlight-reel performance from running back Ron Moore.
And yet again Hagerty quarterback Jeff Driskel watched in frustration as laser-accurate passes slipped through the hands of his receivers, killing any chance of a comeback.
Now the team, which only won two games all of last season must deal with an unusual feeling — the end of an undefeated season.
The Huskies are now 2-1 after the loss, but there's a light at the end of that tunnel. At 7:30 p.m. Friday they'll travel to face Lake Howell (0-3). In only three games, the Silver Hawks have been blown out by a combined score of 131-21. Against Lake Brantley last week, the Hawks allowed five sacks and two turnovers.
Oviedo
The Lions emerged victorious in a tight battle against Lake Mary, edging the Rams 21-17. The win marked the third game this season for the Lions that was decided by a touchdown or less.
Now the Lions (2-1) will look for their first winning streak of the year against Timber Creek. The Wolves are coming off a 34-7 massacre at the hands of Wekiva, thanks to three key interceptions and a safety. The Lions will host the Wolves (1-3), kicking off at 7:30 p.m. Friday.
Winter Springs
The Bears have their first victory of the season after decimating Lyman 49-28.
The Bears (1-2) had only managed one score in their first two games, but exploded against the Greyhounds, finding the end zone seven times. Their defense faltered though, giving up four touchdowns.
This week the Bears host an Evans team that's 1-1 after a big 46-14 loss to Oak Ridge. They'll kick off at 7:30 p.m. Friday.