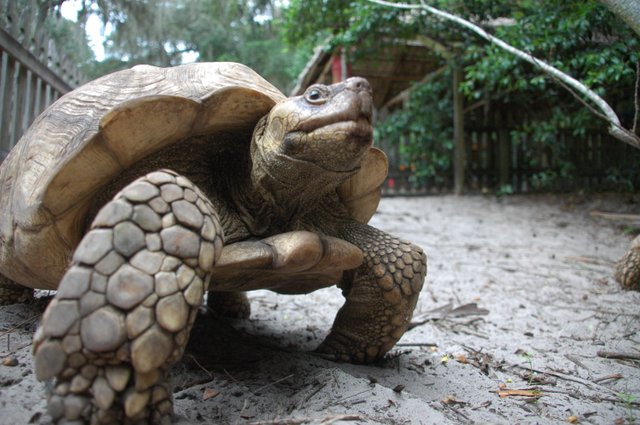 For the past 40 years Peter Pritchard has dedicated all aspects of his life to the research and conservation of the world's turtle and tortoise populations.
Throughout his career, Pritchard, founder of the Chelonian Research Institute in Oviedo, has amassed a collection of nearly 14,000 different turtle and tortoise specimen ranging from four inches to seven feet long, housed between the institute and his home.
"We are one of the biggest turtle and tortoise museums in the world," Pritchard said. "Yet people drive by us everyday and never even know we're here."
Those who certainly do know of the institute's presence, however, are the researchers who travel from across the country and globe to visit it.
"I always like it when people go to the biggest museums in New York and Washington and ask if they have something and they have to tell them, 'Oh, you'll have to go to Oviedo for that,' " Pritchard says.
On Tuesday, Nov. 15, the Chelonian Research Institute hosted a fundraising benefit at the Enzian Theater to commemorate the 40-year milestone of Pritchard's career and bring together his friends, family and colleagues to honor his continued world-renowned work and research being done at the institute.
The next generation
Growing up in Northern Ireland, Pritchard said the main reason he started studying turtles was because he had such little access to them.
"We take them for granted here (the United States)," he said. "For me growing up, they weren't an everyday thing that you saw."
Pritchard saw his first tortoise on a grade school trip to the London Zoo and was instantly fascinated and amazed by the durability, mobility and body structure of the slow-moving creatures.
Years later, when he went to study at Oxford, originally to study chemistry, his boyhood curiosity of discovering the unknown would be sparked again, starting him on the career he continues today.
"I was studying chemistry when I realized the kids studying zoology were out traveling the world, uncovering new, rare species instead of sitting in a lab," he said. "What they were doing looked like much more fun."
He graduated Oxford with a degree in zoology, and after years more of research and schooling, eventually ended up at the University of Florida teaching biology before coming to Oviedo to open the Chelonian Research Institute in 1998.
Studying, raising and searching for tortoises and turtles eventually became the everyday norm for Pritchard, giving his own children the access to the creatures he had yearned for when he was young.
"Growing up, we had Galapagos tortoises that lived outside that we would bring inside during the winter," his son Cameron said. "I would be laying around next to the heater with all these tortoises around while I was watching T.V. and I had no idea that wasn't normal until my friends would come over."
The Chelonian Research Institute provides local adults and children with similar access to the creatures; not in their living rooms but just around the corner in their neighborhood, and Pritchard says he hopes that will encourage their curiosity.
World-class institute in Oviedo
The institute, Pritchard said, is equal parts museum, library and art gallery. He said he has researchers from across the globe come for weeks at a time to study his collections.
Massimo Delfino, a researcher from Torino University in Italy, visited Oviedo for a week in November to examine Pritchard's collections for a book he is writing on turtles from the Mediterranean area.
"Maybe it seems strange, but for me the best thing I could do was to come here," he said. "There are a lot of collections in Europe, but they don't have as many archeological samples as they do here in Oviedo."
In addition to the thousands of preserved specimens and dozens of live turtles and tortoises housed at the 10-acre compound, Pritchard also has rooms in the reconfigured homes that serve as the research areas for traveling scientists like Delfino to rent out and stay in right on property.
"You can come here and find not only materials from the U.S., but from the entire planet," Delfino said. "In this single place, you can really find everything."