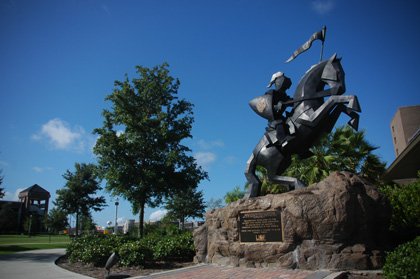 Scott Gerber talks in a rapid-fire nonstop sentence once he gets going. The energetic 27-year-old blames it on his New York upbringing, though his clean diction betrays nothing of his birthright.
But that fast-paced upbringing and incorrigible motor mouth might be on to something. He wants to change the face of entrepreneurship. Keeping up with rapidly changing times, he said, is everything.
"I think we truly have seen a paradigm shift," Gerber said about the business world facing college grads. "In the new economy, you have to create a job to keep a job. No longer can we depend upon the traditional resume-driven society of old. The mantra of get educated, get a resume, get a job, is dead."
UCF economist Sean Snaith said that Gerber is right about the present-day business world differing substantially from recent decades, but disagreed that being your own boss is the only way to survive in the future.

"The world of get educated, get a job, retire, get a gold watch and a defined benefit pension is indeed dead," Snaith said. "Whether you have to create your own job, I don't know if you have to go that far. But you need to continue to upgrade yourself and continue to update your education and training, because you're not going to be in the same job the rest of your life."
But Gerber, who started his first business while he was in college, likes to push the mantra of creating jobs instead of looking for one. On Friday, Gerber and 130 like-minded business moguls will try to convince students to be their own boss when they descend upon UCF for the school's first Future of Entrepreneurship Education Summit.
The organization's namesake has formed a global funding engine that's helped funnel $1 billion in grants, said co-founder Michael Simmons. Now he's taking that group's show to UCF's campus, and he said he's already excited.
"It's amazing what's come together in five or six weeks," Simmons said.
The summit already has on the list economists who've worked with the White House and the founder of PriceLine.com.
And the summit will also bring together a group of young entrepreneurs with incredible success stories, Gerber said.
"These are folks who by the age of 30 have accomplished something that most people don't accomplish their entire life," he said. "I'm talking about people under 30 who have sold businesses for hundreds of millions of dollars."
With entrepreneurs sharing their successes straight out of college, he said that it'll help students understand what's possible with the right attitude.
"Having somebody who is three to four years older than a recent college graduate, that's something that I think we need more of," Gerber said. "That's what this is about."
By the end of the summit, he said he hopes he's changed the minds of a few students about how they could help forge the future business world.
"I frankly think the only way forward for these young people is to take their own lives into their own hands, rather than wait for the next round of layoffs," Gerber said.

Entrepreneurship Summit
The event begins at 8:30 a.m. Friday Feb. 18, continuing until 9 p.m., hosted at the Fairwinds Alumni Center on the UCF main campus. It will be streamed live beginning at 9:40 a.m. at http://www.feesum...