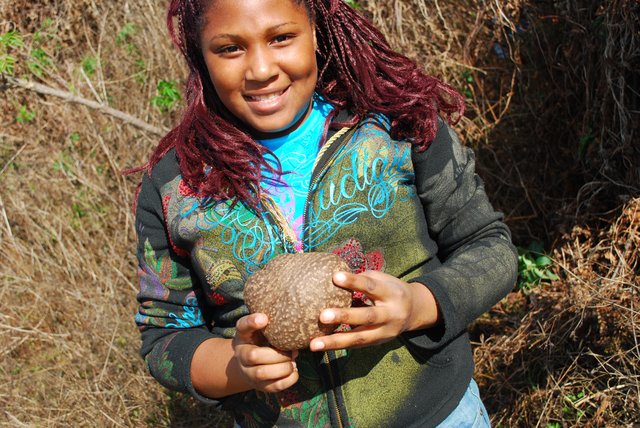 They are brown, they are round, and they are wreaking havoc on Seminole County's parks and green spaces.
Air potato (Dioscorea bulbifera) is one of the top exotic plant species invading the open spaces in the state, said Sherry Williams, a biologist with Seminole County's Greenways and Natural Lands program, one of the organizers of the two-county Mega Air Potato Raid held on Saturday, Jan. 22.
Air potato vines grow on other vegetation, including trees, and shade everything. This causes the plants underneath to die.
On Saturday, 422 pounds of potatoes were collected at Winter Springs' Torcaso Park, and overall, 706 volunteers at 13 sites sent 7,138 pounds to county landfills.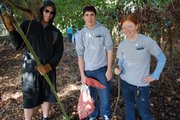 Devastating impact
Native to tropical Asia and Africa, air potato is a member of the yam family, but is not edible. The vine, which can grow to 70 feet in length, produces aerial tubers that grow into new vines. The vines decline during the winter and make it easier to spot the "potatoes" amongst the leaf litter on the floor of densely wooded areas.
Air potato raids have been held at Spring Hammock Preserve in Longwood on the third Sunday of January for the past decade and have brought thousands of volunteers from environmental, civic and school groups. The Central Florida Cooperative Invasive Species Management Area group got involved this year and opened up 12 more sites for the raid in Seminole and Orange counties. One of those sites was Winter Springs' Torcaso Park.
Doing it for "the nature"
The Winter Springs site drew 79 volunteers, mostly from the Science National Honor Society at Hagerty High School and Girl Scout Junior Troop 1994 from Oviedo.
Seven members of the Girl Scout troop, lead by Ashley Murray and Trish Everett, accounted for 86 of the 422 pounds of air potatoes collected at Torcaso. Murray, who is a teacher at Layer Elementary, said the girls were working on their Bronze Award and needed the community service hours.
"It's a learning adventure," said Murray, who said it was meaningful for the girls to get to the "root" of an environmental problem and see a positive outcome.
"We are doing it to help the environment," said Chasiti Everett, 12, who attends Jackson Heights Middle School in Oviedo, as she reached up into some dead vines covering a native elderberry bush. "We don't want the plants to suffer. We kind of need these plants!"
The elderberry provides food for birds, and the berries can be made into jelly or wine.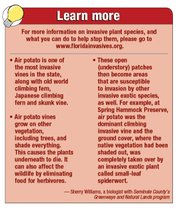 The volunteers also collected litter around the park, which is home to the city's Splash Playground, a popular warm weather destination.
"I want to help the nature," said Adam Jensen, 16, a junior at Hagerty, said pushing a wheelbarrow load of trash to a nearby dumpster.
Economic impact of invasive plant species
The volunteer effort goes a long way toward turning the tide on the spread of air potato.
On Saturday, 245 volunteers took 2,881 pounds of potatoes out of Spring Hammock. Overall, 706 volunteers at 13 sites sent 7,138 pounds of potatoes to county landfills.
"The state spends more than $50 million annually just to manage exotic weeds from our fields, pastures, canals, ponds, lakes, rivers and natural areas," said Williams, but the actual economic impact to the residents of Florida is more than $500 million each year.
Williams, who has been involved in the raid for five years, said she thinks she is seeing fewer tubers in Spring Hammock. That would be a "win" in her book.