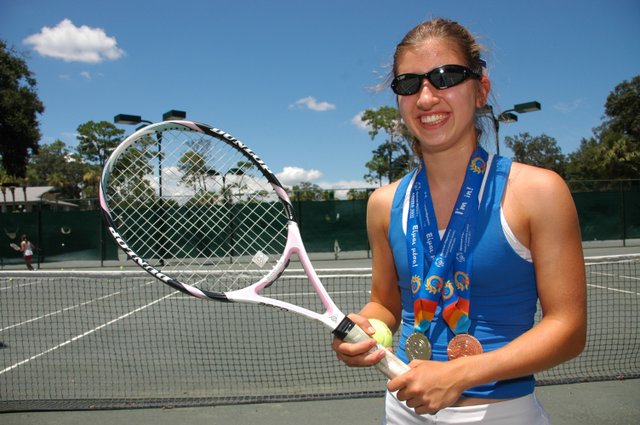 The air ripples in waves just above the surface of the dark green tennis court as a white Adidas shoe takes a calm step toward the baseline. A skinny, athletic brunette in black wraparound sunglasses stares up at an electric green ball as it floats for a suspended moment in the sky. Then in a controlled explosion of force, Brittany Tagliareni sends it hurtling across the court before it touches off a plume of dusty clay and scuttles into the distance.
Today there are no cheers for Brittany. There are no flashing camera bulbs and clicking shutters, no giant stadium surrounding her at center court. But the familiar balmy heat on this Monday afternoon reminds her a little of that moment at the top of her sporting world.
July 3, the Sanford girl stood on the same blue court at Athens Olympic Tennis Center where Olympians had played seven years before. The flashes fired and the shutters clicked as Brittany battled with Australian Kelly Wren for an hour on that sunny Sunday morning. Wren, 33, had been playing for 25 years. Brittany, much younger, had only picked up a racket five years ago.
"I want to be the best in the world," Brittany said. In that moment on the Olympic center court in Greece, she was one match away.
An inner struggle
But the odds were already stacked against Brittany long before she entered that stadium to play the strongest player she'd ever faced. Though she's only a few years into a meteoric rise on the court with the Special Olympics, it's been a struggle with every hit, her mother, Catherine Tagliareni, said.
Though she can return it with lightning precision, sometimes Brittany doesn't remember where to stand to receive the serve. She waits for somebody to tell her. Even after besting dozens of men who've played tennis for decades, sometimes Brittany forgets how to hold her pink-and-black tennis racket.
Staring at her daughter across the court at Sweetwater Country Club, Catherine reminds her to grip it just right.
"Don't forget to line the dots up," she says.
Brittany rotates a red dot on the worn white grip of her racket to match up with the red dot on the web of her thumb, and readies for another shot. She gazes beyond the white mesh fence separating her from her opponent in pink, easily five years her junior.
The intensity on Brittany's face never changes. The focused but distant stare remains the same, even if she's struggling to remember what to do next. "Don't worry," plays a silent monologue. "Stay calm." The struggle is always waged inside her own head.
In an instant, Brittany's autism can turn too much outside stimuli into a chaotic blur of information, shaking her attention. With that tangle of confusion threatening to destroy what she's learned on the court, she thrives on routine. But it has to be just right.
The afternoon sun bearing down on her, she picks up another ball, tosses it in the air, but then hesitates and catches it. She tries again, again hesitating and catching it. The third time is the charm — her arm whips the racket forward and the ball explodes into the distance. Repetition may be the core of any successful athlete's routine, but for Brittany, her mother said, it's magnified to an obsessive extreme.
"Nothing comes automatically for her," Catherine said. But there is one exception to that. She always follows her brother, A.J. That's automatic.
Learning a new game
It was A.J. who brought her into tennis five years ago. Battling Crohn's disease that at times left him unable to hold a racket for months, he had become a strong competitor anyway. And just like with A.J.'s forays into tae kwon do and gymnastics before that, Brittany had to try it.
She immediately caught her coach's eye.
"Brittany had a tenacity that would not be denied," Coach Stan Aranda said. "She will fight to do what she wants to do."
And with that tenacity, she fought through baby steps that would drive other players and coaches to frustration. When a string of coaches struggled to communicate with her, Brittany's mother found new ways.
"I'd even draw stick figures on a court to get her to understand," Catherine said.
Simple tennis terms could at times baffle Brittany, lost in her own world trying to cope with information overload. But Catherine found some words that painted the perfect picture in Brittany's mind.
"Whatever she does, there are clue words," Catherine said. One word would change, and suddenly it clicked. And then, ever gingerly, Brittany would take another step forward.
The progress was slow but relentless. Brittany was on the court five to six days a week, always going full force.
"She's a ball machine," Catherine said. "She just keeps hitting them."
A rising star
So Brittany kept hitting, racing across that court under the broiling sun. And as the months wore on into years, "Brushin' Brittany" and her blistering topspin started surprising players across the country. She played men who've been in the game as long as she's been alive, and she won tournaments in Georgia, in Virginia, in North Carolina. She won the state title. She won nationals. Then she did it again.
In June, as the top-ranked female Special Olympian in American tennis, she set her sights on Athens.
Fighting her way into the championship at center court, she had just one match standing between her and the gold medal.
It would be the first time she would face Kelly Wren, the Australian who had so far dominated the world. A seasoned competitor, Wren hammered the ball harder than Brittany had ever seen, challenging her to keep up.
"It was all sped up," Brittany said.
But she kept battling with that unflinching tenacity. And though she walked out of the big stadium without the gold, Brittany did something even her mother hadn't seen her do after a major loss — She smiled.
"Even though she had just lost, she was just smiling to the cameras," Catherine said. "She loved it."
She would walk away with a silver medal in singles and a bronze in mixed doubles with partner Jon Fried. But then in a moment it was over.
The road back
The smile took a while to fade, Catherine said, but when it did, the emotions hit hard. Three days after returning home from Greece, Brittany realized what she had lost, off her big stage, away from new friends, away from the cameras. It wasn't just the game; it was the experience. She wanted it back. She wants to go back. She still wants to be the best in the world.

She's got four years until the next Special Olympics World Games. Four years of hammering that ball on the court. Four years of baby steps. Four years to be the best.
"I'm always learning," Brittany said. "I'm always watching."
And so on that hot Monday afternoon at practice, she picked up another ball. Her white Adidas toed the serve line in the same spot as it had thousands of times before, but her stance was a little bit different, a little bit better.
"You are woman, hear you what?" Coach Aranda yelled across the court.
"Roar!" Brittany yelled back.
She tossed the electric green ball into the air, and it hung there, just for an instant, before she rocketed it down the line.
Score another point for Brittany.