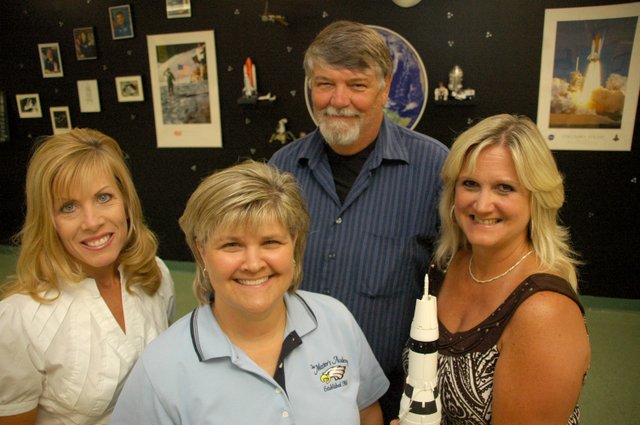 Like a lot of children, Debbie Clark once had dreams to don an astronaut suit and experience the weightlessness of space.
She grew up to be an educator teaching about space in her sixth- and seventh-grade science classes at The Master's Academy in Oviedo, where she's been for the last 10 years.
Now, through NASA's Teaching from Space, she will get her chance to go up, up and away — sort of.
Clark won't be boarding a space shuttle with its final destination marked for the International Space Station. She will be one of four Master's teachers, plus an alternate, who will get to board a modified Boeing 727 jetliner at NASA's Johnson's Space Center in Houston to test out an experiment in zero-gravity conditions. Her team will create the experiment.
"Only 21 teams were chosen from around the world," Clark said. "It's pretty exciting. I'm not a person to get overly excited, but I literally screamed on the phone when they told me I was chosen."
Experimenting without gravity
Clark, along with fourth-grade science teacher Mike Coffey, seventh and eighth-grade science teacher Chuck Dillon, seventh-grade English teacher Christine Rowland and alternate Dana Dionne, principal of the school, will be in Houston from July 22-30 for training. Then they will take flight to perform an experiment involving volcanic activity and its relationship to the formation of the Earth and the atmosphere.
"We're basically testing if the same chemical reactions that occur in volcanic eruptions on land occur the same way in zero-gravity," Clark said.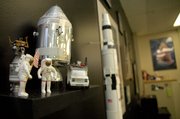 Taking the experiment from ground level to high above the sky has been no easy task.
"There's a lot of critical thinking involved," Rowland said. "What you think is very simple isn't."
The team will have to perform the experiment in a sealed, mounted glove box in the plane, while the aircraft makes roller coaster-like climbs and drops to create periods of micro- and hyper-gravity, ranging from 0 to 2 g, for the 30- to 45-minute experiment.
David Lantz, flight controller at NASA's JSC in Houston and mentor for Clark and her team, said he's impressed by the group's work.
"It's been interesting working with educators," he said. "They're taking simplistic ideas and putting them in a foreign environment, which isn't easy, but they're wrapping their heads around it and coming up with great solutions to making everything come together."
Getting the students involved
Being the only team to be selected from Central Florida in the two years the program has been open to teachers, members have been working diligently to make sure they and their students in the kindergarten through 12th grade school benefit from the tremendous learning opportunity.
With the fourth-graders studying chemical reactions in Coffey's science classes and Clark conducting a volcano experiment in her middle school classes, the team decided on the chemical reactions of volcanoes as the base of their experiment.
"The best thing about the experiment is that it can be geared toward any grade level and any subject," Rowland said. "As humans, we are naturally inquisitive, and as teachers, we can make the experiment more or less complicated depending on what level the students are at and what subject we're teaching them."
For her English class, Rowland asked her students to write journals about their thoughts on the experiment, combining different disciplines of learning such as math, science and English.
"It shows students the importance of excelling in all of them," she said.

In a school-wide effort, all of the teachers asked their students to hypothesize about what they think will happen when the experiment is completed and how the team of teachers will have to modify the experiment in relation to the zero-gravity environment they'll be conducting it in.
For Coffey, the fourth-grade science teacher on the team, getting the students involved has really piqued their interest.

"From a teacher's standpoint, we're students in this situation," he said. "We're doing this for them. It's great to see them excited because they know we're excited. They proposed ideas, asked questions; it's a great feeling that they want to see what happens."
A once-in-a-lifetime opportunity
At the beginning of the next school year, a school assembly will be held for the teachers to present and discuss their findings with students.
But for now, as the experience draws closer, excitement fuels the group, while thoughts of accomplishing dreams and appreciating unique opportunities are ever present.
"The biggest thing I want to bring to my students is that you're never too old to have a dream and accomplish it," Rowland said. "We're doing something very huge that most teachers don't get to do. Don't give up hope to do something."