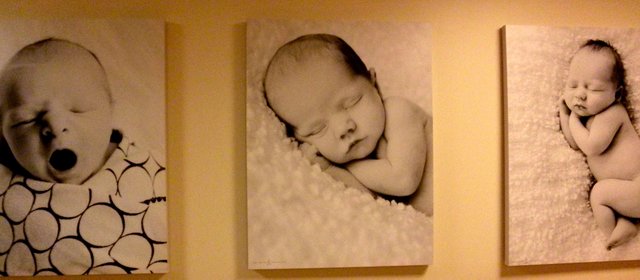 While one hospital took a hit to its baby business in the last couple of years, another has seen it grow, leading to an expansion of its baby center.
South Seminole Hospital closed its obstetrics unit last month, due to a major decline in births there.
"It was a numbers thing, we weren't seeing the volume," said Desmond Jordon, a representative from South Seminole Hospital.
The yearly average number of births went from around 1,500 to around 1,200 last year, and less than 100 during each of the couple of months leading up to its closing. It's a trend a lot of hospitals are experiencing nationwide, Jordon said. Mothers can instead go to Orlando Health's Winnie Palmer Hospital for Women & Babies, or to Florida Hospital Altamonte.
It's very common for hospitals to do selective expansions and closings based on utilization, said Aaron Liberman, professor and department chair for the College of Health and Public Affairs at the University of Central Florida. Obstetrics can also be risky business for hospitals because of their high incidence of litigation, which must be factored in, he said.
But at Winter Park Memorial Hospital, its Dr. P. Phillips Baby Place is thriving. Last May on Mother's Day the center doubled in size and received a major renovation. The hospital hired 17 more nurses when the unit expanded, and currently has more than 120 nurses serving moms and babies, with a ratio of four patients to one nurse, including babies. If the growth in births continues, the hospital hopes to hire 22 more nurses in the next several years.
"In a declining market, when you grow, that's a good sign," said Sharon Clary, executive director for marketing and business development for the hospital.
In 2008 and 2009, the hospital saw around 2,300 births each year, and in 2010 that number jumped to 2,580. Jana Sutter, a disc jockey for XL 106.7, had her baby at the Baby Place in February. For her, the recommendation from friends led her there.
"I don't think it was ever really a question, I knew I was going to deliver there," Sutter said.
It's the only "boutique" hospital birthing center in Central Florida, but costs the same as other area hospitals, Clary said. The rooms and hallways have a resort feel. It's quiet. All of the furniture has a hotel type design, and there's no clue you're in a hospital room --- until you look at the bed. Smoothies are served along with massages at 3 p.m. every day for mom and dad, and that's included in the hospital stay.
"It's a different type of experience," Clary said.
Soon-to-be parents take a personal tour of the center with their own birth experience designer, another touch unique to the hospital. Designer Vickie Smith, a registered nurse who specializes in obstetrics, takes the parents around, answers questions and helps them make a birth plan. Anything and everything can be planned, including a pillow upgrade, choice of aromatherapy scent and flowers in the room. Sutter got stargazer lilies, and they filled her room with their incredible smell.
"It's something I'll always remember," Sutter said.
Smith has even had someone request pizza from New York be delivered along with her baby on the big day. She said it's fun and fulfilling to accommodate more challenging requests.
"I'm almost like their wedding planner," Smith said.
Winter Park Memorial has always been on the cutting edge when it comes to the services it offers parents, Clary said. Along with a birth designer, concierge and amenities, it was also the first in the U.S. to partner with the Office of Vital Statistics to provide birth certificates on-site, in Florida to have a modern birthing room and in Central Florida to offer 4D Ultrasound. And while they are open to change and growth, they also know what works for them, and what fits for Winter Park, Clary said.
"We're a small boutique, we're personal and we want it stay that way."