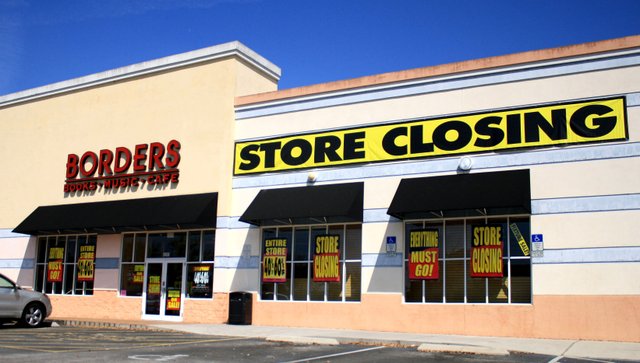 Standing under a giant "30-50% off" sign, Barbara Beil browses through the religious section in the Borders in Oviedo. After nearly 12 years, the bookstore across from the Oviedo Marketplace mall will close by the end of April.
Beil normally reads her books on her Kindle, and she has spent about $100 in the last year on electronic books. But she still has a fondness for a thick paperback.
"I love my Kindle," the Winter Springs resident said. "But there is something about having a book that you can hold and share with someone. You can't share a Kindle like you can a book."
With the declaration of Ch. 11 bankruptcy in February, Borders has begun downsizing. Of the 226 stores that are closing, 14 are in Florida. All of the Orlando area stores will be closing, with the exception of the Winter Park and Orlando International Airport locations.
Borders spokeswoman Mary Davis said the closing stores were underperforming, but the Winter Park and OIA locations were still "up to standards". Davis also said that an additional group of stores are being evaluated, but no decisions have been made.
Beil says she does not typically shop in bookstores and that it was the going-out-of-business sales that drew her in.
"It's people like me that put these stores out of business," Beil joked.
E-Books and bookstores
Borders has seen a decline in sales in recent years, and part of that can be linked to the recent spike in digital book sales.
The American Association of Publishers' 2010 year-end sales report was grim for traditional books. There was a 164.4 percent increase in e-book sales, when compared to 2009. All traditional children's and adult's book categories saw a decrease in sales ranging from 5 to 10 percent.
Publishers Weekly Editorial Director Jim Milliot said that digital books only played a part in Borders' bankruptcy.
"They were late to a lot of things," he said. Along with abandoning their online store in 2001 for a partnership with Amazon, Milliot credited the late entry into the e-reader market as part of Borders' problems.
"They don't have their own device," he said. "They are behind other big brands like Apple, (Amazon) Kindle and (Barnes & Noble) Nook."
Borders began selling an e-reader called the Kobo last summer. The Kindle was released in November 2007. The Nook in November 2009. The iPad in April 2010.
Customer awareness
Competitors such as Apple and Barnes & Noble have had e-readers available for much longer, creating a customer awareness that is more established than Borders.
"Barnes & Noble sells the Nook prominently, and they have done a good job," he said. "Borders is not promoting as well."
Milliot contends that businesses have to offer a digital product, but that they have to correctly diversify marketing, and "brick and mortar" stores are a big part of this.
"Physical stores are crucial to promote digital books and promote brand awareness," he said.
But the digital world does come with a big drawback: browsing.
Milliot says it is very hard to find a book unless you specifically know what you are looking for and that is where the physical stores come in handy.
The future: Digital or print?
The print industry has seen steady declines in sales over the past five years. In 2005, when paperback sales were at their peak in the last decade, Publishers Weekly reported 226 titles sold more than 100,000 copies each. In 2010, only 134 titles broke the 100,000 mark.
As for the big sellers, in 2010 there were only 12 titles with more than 500,000 units sold compared to 2005, which had 22.
Milliot said that it is predicted that by 2015, half of trade books could be digital and the other half print.
Libraries are completely aware of the change in the industry. Tracy Zampaglione, Orange County Libraries Public Relations Administrator, said that users are becoming increasingly mobile. And they are fully embracing those changes, with initiatives such as their new iPhone app. Their electronic products saw a 217 percent increase in use last year.
Seminole County libraries are not yet offering digital books, but Library Services Manager Christine Patten said they are just getting started on trying to find funding to meet customers' high requests.
"It is not that people aren't using libraries, it's that their needs are changing," she said.
As consumer needs continue to change, many wonder if the publishing industry will go completely digital.
"Nobody is predicting that [the industry] will be completely digital," Milliot said. "But without question, digital is the biggest growth area."