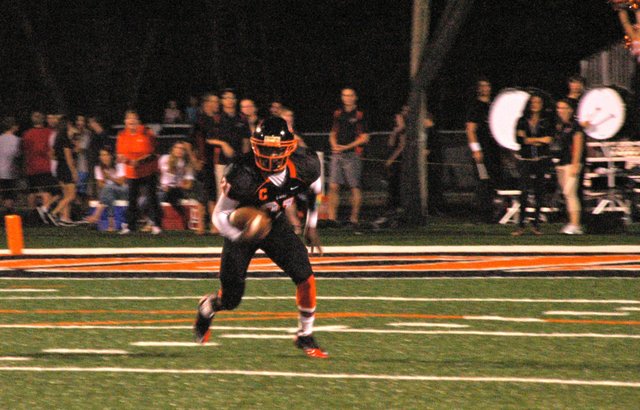 The Lions narrowly outlasted the Hagerty Huskies in a cross-town battle that raged to the final seconds of the fourth quarter on Sept. 30. Now the Lions are looking to build on their second winning streak of the year, while the Huskies look to right a season gone wrong.
In their annual rivalry game, the Huskies (1-3) and Lions (4-1) entered the stadium with vastly different early seasons behind them.
The Lions had dominated so far this season, only losing to Lake Brantley while trouncing Lyman and Seminole by a combined 68-2 point differential. Sporting a balanced game of strong offense and stifling defense, they had little trouble against Lake Howell on Sept. 24.
Hagerty had struggled through two blowout losses after beating Winter Springs in the season opener. Only against the Bears had the Huskies found any semblance of offense, racking up 24 points.
Against Oviedo, the Huskies found that offense again, but this time had to deal with a team that was fully capable of driving up the score.
The Huskies' Jason Driskel finally showed what he could do in the air, throwing bombs for some long scores to his top target, Hunter Boudreau.
But the Lions had a secret weapon of their own in freshman Jurell Green, who single-handedly gave the Lions three of their four touchdowns, one of them a 98-yard kickoff scamper to bamboozle Oviedo in the second quarter.
It all ended in a failed comeback after the Oviedo defense stuffed Hagerty on the potential game-winning drive.
For the Huskies, a trip to Orange City's University High awaits at 7:30 p.m. on Friday, Oct. 7. The Titans are 2-2 in just their second season on the field, with four blowout games swinging both directions. On Oct. 14, they head to Lake Minneola to face the Hawks, who are 1-3 on the season.
The Lions will take the weekend off before heading to East River Oct. 13. The Falcons are 3-1 so far, coming off a 35-6 dismantling of Colonial.
Winter Springs
The Bears (1-3) were trounced 49-0 in their biggest loss of the year at Lake Brantley on Sept. 30. The lopsided Patriots offense managed only 60 yards passing, but hustled to 390 yards on the ground, a third of them courtesy of Ti'on Green.
The Bears managed to lose three fumbles and an interception in the game, punting five times and never reaching the red zone.
One of those fumbles turned into an immediate touchdown for the Patriots, who cruised easily to the seven-touchdown win.
The Bears played Edgewater (2-1) on Oct. 6 at press time. On Oct. 13, they'll head to Timber Creek for another big challenge. The Wolves (2-2) are coming off a tough 26-22 loss to Olympia.