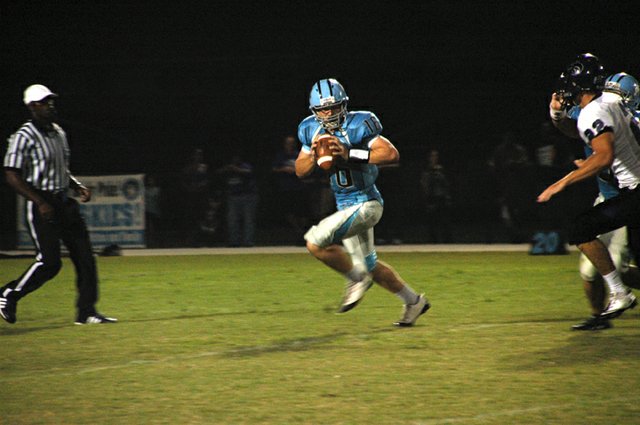 It was a bad night for football in Oviedo on Sept. 16, with both the Hagerty Huskies and Oviedo Lions falling in blowout losses. But the Winter Springs Bears managed a win in overtime against Lyman.
For the Huskies, a dearth of offense handicapped them for the entire game, as they watched an also-weak Timber Creek offense flounder but somehow manage to find the end zone for a 27-0 win.
One of the nine passes Hagerty quarterback Jason Driskel completed was intercepted, while the other eight totaled 62 yards through the air. Driskel, who did more running out of the pocket than down the field, was sacked five times in the game.
Mistakes on offense would haunt the Huskies all night, with one of two fumbles immediately turning into a touchdown for the Wolves and a blocked punt turning into another recovery for the Wolves.
Timber Creek's offense only managed 181 yards on the night, but combined with the yards and scores picked up on defense, those were plenty to amass a blowout win.
The only bright spot for the Huskies: two red zone showdowns that ended in Timber Creek field goals rather than touchdowns.
The Huskies are 1-1 heading into their 7:30 p.m. Friday, Sept. 23, home showdown against Lake Mary (2-1). The Rams recovered from an early season loss to down Winter Springs and Ocoee in two straight weeks. Coming up on Sept. 30 the Huskies travel for a cross-town showdown against Oviedo at 7:30 p.m.
Lions gashed
The Lake Brantley Patriots (3-0) handed Oviedo (2-1) its first loss of the season after the Lions had held opponents to only two points in their first two games.
And the Patriots did most of that damage by capitalizing on Oviedo offensive mistakes. The Patriots intercepted four passes on the night, collecting 27 yards on defense in the process. Another recovered fumble added up to five turnovers by the Lions.
Meanwhile, Lions' quarterback Chris Davis did everything he could to keep his team in the game, launching 109 yards worth of passes and picking up 56 yards on his feet.
The Lions travel to Lake Howell (1-2) for their first district match-up of the season at 7:30 p.m. Friday, Sept. 23.
Bears nip Greyhounds
In a freakish game that featured a comeback courtesy of two safeties, the Bears (1-2) barely outlasted the Lyman Greyhounds (1-2) in a 28-21 OT nail-biter.
Quarterback Jon Sandfort picked up 167 yards in the air and on the ground to lead his team to the win, which featured two comebacks for the Greyhounds. The Bears take a week off before traveling to Lake Brantley (3-0) on Sept. 30.