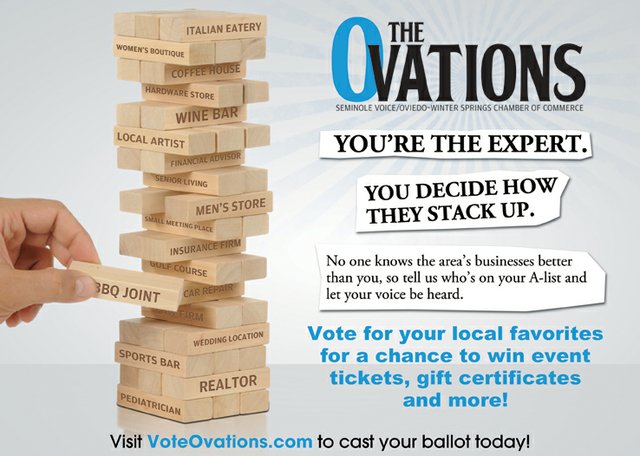 The Seminole Voice newspaper along with the Oviedo-Winter Springs Regional Chamber of Commerce conducting a community 'best of poll' called The Ovations. Readers of the Voice and members of the Chamber are encouraged to vote for their favorite company in over 30 categories. Vote today at www.VoteOvations.com. Voting ends on May 12.
What are some of the best things to do in Seminole County? Where are the best places to shop or eat? It's all here in The Ovations.
One of the reasons social media has exploded in popularity is because of relevance. We trust word of mouth recommendations and peer reviews above all other forms of marketing and advertising. That's why we created The Ovation Awards — to find out what you the denizens the community's think is so great about our community.

Lastly, the Ovations are a celebration of the community. A strong local economy is based on a thriving homegrown businesses environment. That is why we echo the mantra of "Live here, work here, and play here". It is through our support of the local business community that we improve our standard of living, real estate values and renew our cultural offerings.
The winners will be announced at the Ovations Awards Ceremony on May 24 at the Oviedo Mall. After that, the winners will be compiled into a guide to expand your knowledge of local-owned and operated businesses. Join us in giving Oviedo and Winter Springs a standing Ovation!