Vote for Seminole County Animal Services
Seminole County Animal Services is one of 108 shelters competing for the ASPCA Rachael Ray $100K Challenge. They need the support of our community to reach the top 50. Voting runs through April 16. To vote, visit www.votetosavelives.org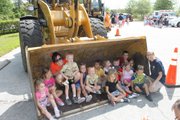 Learning about vehicles
Transportation Day was March 28 at Kids Together in Oviedo. The Seminole County Sheriff's Office was there with its helicopter and the Vietnam War Museum brought a jeep, mobile museum and Humvee with rocket launcher. There was also a parent that flew his plane over and talked to the kids via walkie-talkie.
Safe Places recognized
On March 22, Boys Town visited the Hess Station on E. State Road 434 in Winter Springs to thank the owners and employees for serving as a Safe Place location. Safe Place is a youth outreach program that provides immediate access to help and safety for all young people in crisis.
Residents splash for free
On March 26, the Winter Springs City Commission approved Resolution 2012-11, giving Winter Springs residents free use of the Trotwood and Torcaso Splash Playgrounds. Non-residents are $3 per day.
Garbage collectors on patrol
The Winter Springs Police Department in conjunction with Waste Pro kicked off the Waste Pro Watch Program, designed to place additional eyes and ears in our neighborhoods to help reduce crime. All Waste Pro employees working in the Winter Springs area will be trained to look for suspicious activity.
Police threat investigated
Oviedo Police detectives learned that on Saturday, March 17, that Oviedo resident Russell Braxton sent the following message via his Twitter account, @smackema1, "We wont make a difference if we don't kill a cop or 2." Braxton told detectives that he's been following the Occupy movement in New York and got caught up in it. He said that he was only trying to "fit in" and did not mean what he said. Detectives concluded there was no probable cause to charge Braxton with a crime.
Trail reopens
Seminole County Green ways and Natural Lands Division reopened the Black Bear Wilderness Area on March 31. The 1.5-mile trail, leads visitors across marshes to the St. Johns River. It features boardwalks and scenic views of the river. The trail system will be open from sunrise to sunset, 365 days a year when conditions permit. Parking is located at the corner of New York Ave. and Michigan Ave. in Sanford at 5298 Michigan Ave. For information call 407-349-0769 or visit http://tinyurl.com/blackbeartrail
Casselberry's inaugural Relay
The inaugural Relay For Life of Casselberry will take place on May 18-19 at Metro Life Church, 910 S. Winter Park Drive. If you are a cancer survivor and would like to take part in the Relay For Life of Casselberry, please call your American Cancer Society at 407-581-2501. If you are interested in starting up a team or becoming a business sponsor for upcoming fundraising activities, contact event chair Rhonda Thomas at rlthomas@cfl.rr.com/ or 407-921-0187.
School news
Oviedo graduate
Harry Darnell Bailey, a resident of Oviedo, has earned a bachelor of science from Excelsior College.
Spring break mission trip
Scott Chuchla, of Oviedo, was among a contingent of University of Dallas students and campus ministers that traveled to Joplin, Mo., on March 4 for this year's Alternative Spring Break. The group of 15 spent a week painting and cleaning Catholic Charities offices damaged by an F5 tornado nearly 10 months ago.
50th anniversary planned
Oviedo High School is planning a 50th celebration of our football field. They are looking for coaches, football players and cheerleaders from the inaugural 1962 teams and their families. Please contact Angie Williford at 407-320-4023 or Patty Blake at 407-320-4136.
Biz news
New food offerings
Oviedo Mall announces two new additions to the food court, NY Burger House and Berry Field Frozen Yogurt. They will be located next to News Rack on the east side of the food court. For information, call 407-977- 2400 or visit www.myoviedomall.com
The Grove recognized
On Feb. 1, The Florida Department of Children and Families named The Grove Counseling Center in Longwood the most effective organization in the Central Region for Children's Substance Abuse treatment.
Send submissions to editor@observernewspapers.com