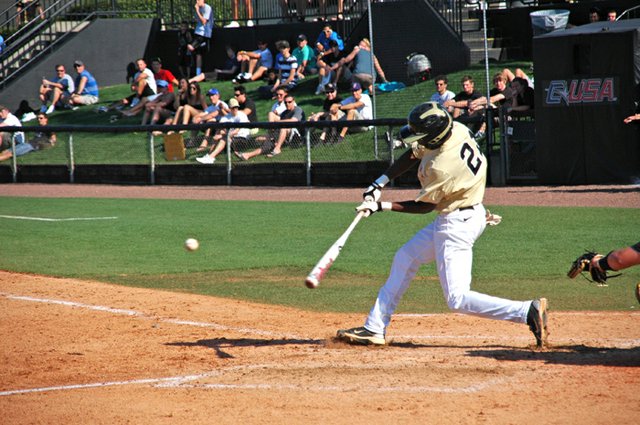 The Knights may have lost a big one to UAB, but they came back with two revenge-match thrillers that ended in a walk-off single to take the series on April 8.
It would be the only hit that left fielder JoMarcos Woods would collect in the game, and it would prove the decisive one. With the game tied at 7, the Knights came to bat in the bottom of the ninth inning hoping to clinch a series in a final shot at a win.
They had a lot on the line, with a No. 14 NCAA ranking and a 27-7, 7-2 record to defend. They also had a bit of a grudge to satisfy after a wild six-error series opener left them smarting with an 11-4 loss on their hands. That game had been especially traumatic for UCF pitchers, who gave up only one earned run of the 11 that crossed the plate.
For Brian Adkins, who fell to 2-1 on the season with that April 6 loss, the game was a nightmare. In three and two thirds innings pitched he would strike out four batters, but he watched in horror as a slew of fielding errors resulted in nine runs crossing the plate in the fourth inning, none of which were attributed to him.
But those memories were erased by Woods' single that drove in the winning run to end the third game of the series at home.
After hosting Florida A&M and Bethune Cookman Tuesday and Wednesday at press time, the Knights will hit the road for Southern Miss for a three-game series before returning against Florida Atlantic on April 17.