School News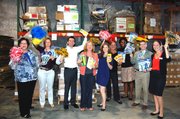 Got pencils?
Heathrow-based Dixon Ticonderoga provided essential school supplies with their gift of 39,000 pounds of supplies worth more than $358,000 to A Gift For Teaching on National Pencil Day.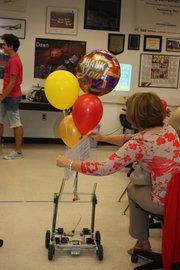 Progress Energy helps build Foundation
Progress Energy Foundation was recognized for its support of Seminole County Public Schools' Grants for Great Ideas program with a robotics demonstration at Lyman High School on March 28. Mr. Yucuis's students programmed a robot to present a thank you card and balloons to Progress Energy representative Patty Salvatore.
Lyman wins service award
The Jefferson Awards-Deloitte Students in Action is proud to announce that Lyman High School has been selected as the Seminole County Recipient for Outstanding Service by a High School. Lyman will compete against Eau Gallie High School from Melbourne to determine which school will represent Central Florida at the Jefferson Awards National Ceremony in Washington, D.C., on June 18-20.
Distinguished honor for Crooms Academy
Crooms Academy of Information Technology has been designated as a Distinguished Academy. Crooms is one of eight National Academy Foundation (NAF) academies to receive this designation and was previously named the No. 1 Connected School in the nation by U.S. News.
Seminole students earn science honors
Neel Patel of Oviedo High School gave a speech during the Junior and Senior Outstanding Narratives (JASON) Colloquium at the 57th Annual State Science and Engineering Fair of Florida. He was the winner of the Senior Division Grand Award. The winner of the Junior Division Grand Award was Nirva Vassa from Sanford Middle School.
Winter Springs native top scholar
Samson Kodzis, of Winter Springs, a first-year student majoring in computer science at Worcester Polytechnic Institute, has been named a Charles O. Thompson Scholar for the 2011-2012 academic year.
Adult scholars
The following Belhaven University Orlando students were inducted into Alpha Sigma Lambda, the national honor society for non-traditional adult students:
Desiree Hayes from Oviedo is pursuing a bachelor of arts in biblical studies.
Susan Schenk from Oviedo is pursuing a bachelor of arts in social services.
James Teaster from Chuluota is pursuing a bachelor of business administration.
Local FIT enrollees
The following local students will begin studies at Florida Institute of Technology in Melbourne in Fall 2012:
Roger Allen of Winter Springs will pursue a bachelor's degree in aerospace engineering.
Benjamin Tarr of Oviedo will pursue a bachelor's degree in biological science, premedical.
Alyson Vezina of Oviedo will pursue a bachelor's degree in general engineering.
Ashley Vezina of Oviedo will pursue a bachelor's degree in general engineering.
Biz news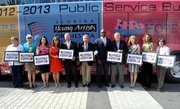 Getting on the bus
Eight nonprofit organizations will have their logos placed on a LYNX bus for the next 12 months. Among the winners are Lake Mary-based Angel Snugs, which knits beanies and scarves for children undergoing cancer treatment, and Early Learning Coalition of Seminole, a provider of free voluntary pre-kindergarten.
Send submissions to editor@observernewspapers.com