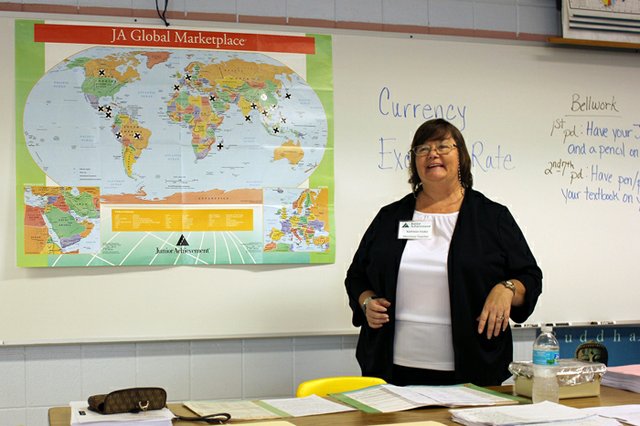 Junior Achievement volunteer Kathleen Feder is teaching a small but significant exercise to Michelle Ortiz's fourth-grade class.
She takes each student's hand firmly in hers, looks him in the eye and says how nice it is to meet him. She wants to make sure each of them know how important it is to make a good first impression in the business world.
This handshake practice is a small but significant exercise that will help these Wicklow Elementary students develop the life skills they need to succeed outside the classroom.
For more than 20 years, Feder has been volunteering for Junior Achievement, an organization that educates students in grades K-12 about entrepreneurship, work readiness and financial literacy through experiential, hands-on programs.
The general manager of Ace Expediters has taught personal finance, global marketplace and success skills classes for JA. This year, she's volunteered at Indian Trails Middle School, Lawton Elementary and Crooms Academy of Information Technology.
"I can't wait until I retire so I can do this (volunteer) all the time," Feder said. "I love it."
Feder is one of the 3,826 Junior Achievement volunteers in Central Florida giving back to a community one class at a time.
"I'm a firm believer that if you are in business… you need to give back," she said. "It doesn't matter where you give back, but a business is a part of a community and you have to give back to that community, that's the community that's buying your product or buying your services, and for me children are the future."
Junior Achievement is giving back to 15-year-old Crooms Academy students Mahdi Musleem and Amanda Casey by helping them prepare for real-life situations outside of the classroom.
"We learned what to do in real-life situations, not just wrong and right, but how to talk to people," Musleem said. "I would recommend taking a JA course if you're having trouble with social skills."
Casey also said JA helped her learn the skills needed for the career world.
A new study from Junior Achievement USA and The Allstate Foundation revealed that only 56 percent of teens 14-18 years old think they will be as financially well-off or better than their parents. That represents a 37 percent drop from 2011 (89 percent). The 2012 Junior Achievement Teens and Personal Finance survey also uncovered a dramatic shift in the age teens think they will be financially independent from their parents or guardians. Less than half of teens who responded indicated they'd be independent by age 20 versus a year ago.
"If you want experience on how to handle situations in the job world, it's (JA) a good option," Casey said.
Crooms Intro to Information Technology teacher Debora Pollock said she is grateful to have Junior Achievement volunteers come into her classroom.
"My take is, a teacher becomes like a parent, they see us day in and day out, so when other people come in and talk to them (students), it's just so good for them," she said. "It just really freshens up the course."
She said Junior Achievement comes into her classroom once and week to help students get ready to enter the career world.
"I think it's a very useful program," Pollock said. "We so much appreciate it."
"It gives me a sneak-peek of what's going to be happing in the real world," 15-year-old Crooms student Zack Fedewa said.
Winter Springs resident Steve Overstreet helped kids get a sneak-peek into the real world through teaching personal finance JA courses at Lake Howell High School.
"The responses I've gotten from the courses have been very positive," Overstreet said. "The [answer] I like most is that everybody intended on graduating high school and go onto college."
Stephanie Beasley and her 17-year-old daughter Emily have both been impacted by the Junior Achievement program, and are grateful for the things it has taught Emily.
"I learned about things like financial literacy and how to take a mortgage out on your home, all the things that you don't ever think about when you're in high school or middle school, that will impact you later in life," Emily said. "They make sure you know what's coming, so you never get blindsided by something that could possibly put you in a financial determent."
Emily is now continuing to give back through JA by volunteering her own time to the program.
"It's been really nice and refreshing to see her see the importance of good work ethic," her mom, Stephanie, said. "It's helped shape her ideal of how she can benefit society."
Emily has also since been awarded Junior Achievement Shining Star for their Ms. Florida Hall of Fame, and her mom couldn't be happier.
"I'm extremely proud of her," Stephanie said. "It's important to take part in a cause, and JA is a really good cause; the benefits of it educating the youth are astronomical."