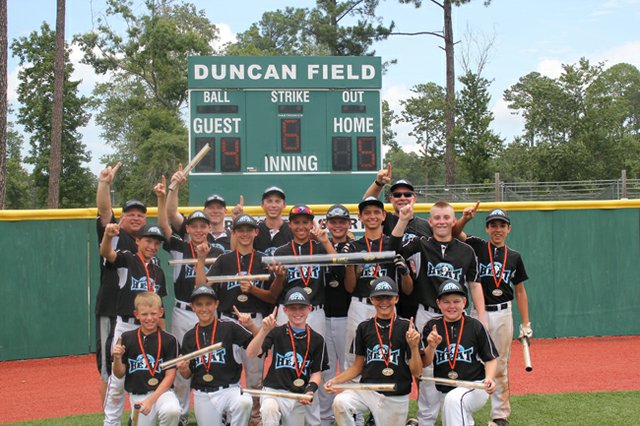 It took a caravan of cars, 23 parents, six grandparents and 11 siblings in tow to get the Baseball Pro Academy Heat 12U team from Oviedo to the Ripken Experience baseball Big Kahuna tournament in Myrtle Beach, S.C., but the trek was well worth every mile and rest stop.
During tournament play the Heat allowed only 17 runs throughout the 8-game tournament and placed 5-0 in pool play earning the No. 1 seed going into the single elimination championship bracket. After playing games against teams from Michigan, Wisconsin, Ohio, Illinois, Indiana and Massachusetts over six days (July 15-20) the team won the championship game beating NE Diamond Dawgs from Massachusetts 5-4.
The Ripken Experience is quite unique in that Cal and Billy Ripken designed the complex and all of the fields are turf. None of the Oviedo players had ever played on turf before. Each ball field is a replica of a historic baseball field.
"Our families were overwhelmed by the scope and quality of the complex," said Ingrid Nissen, wife of Coach David Nissen and mother of Connor Nissen. "There was a great sense of pride exhibited by all of our players, as our defense, pitching and team attitude were outstanding throughout the tournament. With some key hits, hustle and teamwork, the team won the tournament."
Baseball Pro Academy Heat 12U players include A.J. Adams, Izzy Bencivenga, Trey Bradley, Jack Chandler, D.J. Coventry, Andrew Fenning, Jake Folland, Matt Lipari, Nick Mott, Connor Nissen, Preston Schumacher, Tanner Skotnicki, and Jared Sparrell and Coaches: Rick Bradley, David Nissen, Brian Schumacher and Don Lipari.