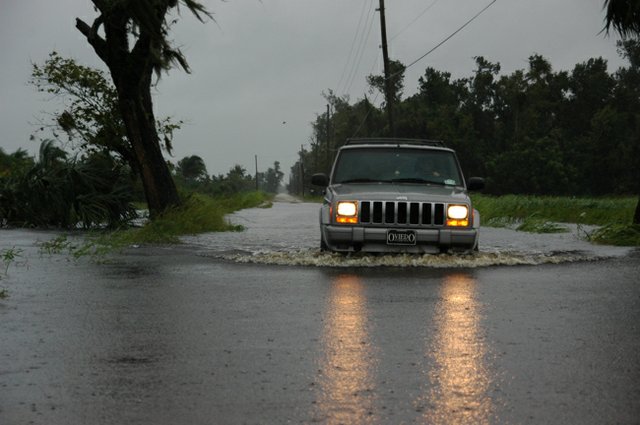 Oviedo may owe as much as $1.56 million to the Federal Emergency Management Agency and the state after the Florida Division of Emergency Management discovered it overpaid for Hurricane Charley cleanup efforts.
A demand notice was sent to the Oviedo government on July 25 that outlined charges that the federal government hoped to have refunded for overpayment. But how much the city may be forced to pay remained unknown as of Monday, City Manager Kathryn Breazeale said, though Mayor Dominic Persampiere said it's likely to be much less.
"The demand notice is fairly short notice, and it could be an awful lot of money," Breazeale said.
The manager said that she's still investigating how the city managed to be overpaid for debris removal in the wake of hurricanes in 2004, when three hurricanes crossed through Central Florida within a two-month span.
"It had to do with some overpayment of debris removal where they might have paid us twice," Breazeale said. "It could also have been in the accounting. We're still trying to get to the bottom of why, but it's substantial."
The city had received in excess of $5 million from FEMA.
Mayor Dominic Persampiere said that FEMA had been attempting to recoup overcharges from hurricane-affected cities for years after the Agency's accountants discovered payment discrepancies with some cities.
"This isn't unique to Oviedo," Persampiere said. "FEMA has been trying to back-charge just about every municipality."
More than $3.1 billion was spent in Florida in the wake of the 2004 hurricane season, and in the ensuing years, discoveries of overpayments have spread statewide.
In Miami-Dade County, accusations flew of $31 million in unnecessary payments to minimally damaged areas that year, documented in a series of articles by the South Florida Sun-Sentinel in 2005.
"Our city attorney even informed us the other night that each city they represent had FEMA denied claims in the 200k to 500k range that they had to refund to FEMA from the 2004 hurricanes," Persampiere said.
Some overpayments appear to have been intentional or even politically motivated, according to one research study that collected data from 2.6 million FEMA aid applications.
After comparing those applications to the political precincts in which the money was spent, a Stanford University researcher's report showed that in 2004, leading up to the November elections, disaster relief payments were 40 percent higher in Republican-leaning voting precincts than in Democratic ones, regardless of damage.
"By tracking the geographic location of each aid recipient, the data reveal that FEMA favored applicants from Republican neighborhoods over those from Democratic or moderate neighborhoods, even conditioning on hurricane severity, average home values, and demographics," Stanford's Jowei Chen — now a political science professor at the University of Michigan — wrote in his 2008 research study.
Persampiere disagreed with the report's veracity.
"That's a speculative report," Persampiere said. "At the time the city management here was all Democrats anyway."
He said that even if FEMA were to succeed in recouping all of the payments it's demanding, the city is prepared. He said he expected the maximum the city would have to pay out would be $600,000, but that he thought the payout would be closer to $200,000. He added that the city already has more than that in a specific fund.
City Attorney Lonnie Groot said that for the rest, the city should be able to work out a repayment plan.
"Cities in a majority (of cases) have been able to protract it so they can pay over a longer period of time," Groot said.