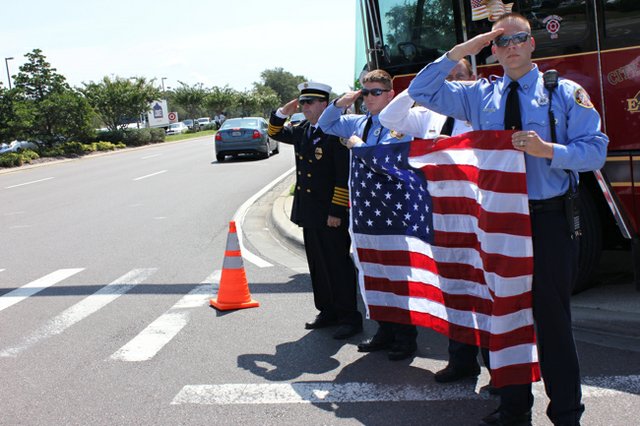 Just before one suburban road in Chuluota ends, a curbside lining of postcard-sized American flags and ceramic pots filled with red, white and blue flowers begins.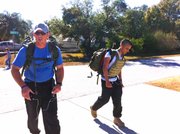 They lead you to the front yard of the Nelson family home, where two likewise colored wreaths of carnations rest on easels flanking both sides of a newly in-ground flagpole, where the stars and stripes wave at half-mast.
More small flags lead you to the front door, next to which hangs another flag of a different pattern. This one is white framed in red, a gold star in the middle.
The star stands for the son and brother of those inside, Pfc. Brenden N. Salazar.
It's not like the stars he earned on school papers when he attended Geneva Elementary or Lawton Childes Middle School, or the ones he read about from a galaxy far, far away in his favorite "Star Wars" novels. This one, his mother, Jovanna Nelson, says, he earned fulfilling his dream and purpose in life: serving his country.
"He died protecting this country. He died serving. He died protecting us," she said. "He died doing what he wanted to do."
On July 22, 10 days after Brenden's Army airborne unit touched down in Afghanistan from their home base in Vincenzo, Italy, they were attacked by enemy forces with an improvised explosive device, the Department of Defense reported. The attack killed Brenden, 20, of Chuluota, and Spc. Justin L. Horsley, 21, of Palm Bay, and severely wounded at least two others.
In memory of Salazar, a trust fund has been set up for his younger sister Hannah Nelson, who has cystic fibrosis. The family has set up the trust fund with Fairwinds Federal Credit Union, 77 Geneva Drive, Oviedo, FL 32765. Checks can be made payable to Agnes Lopez, with Hannah Nelson's name in the memo line.
In the weeks since, his family and friends have come together with the community to honor the boy with the smirk that could always make them smile, and create a legacy for him to benefit the star in his life – his little sister Hannah Nelson, 11, who has cystic fibrosis.
Serving his country
It was after 11 p.m. on a night in late March 2010 when just-turned-18-year-old Brenden mustered the courage to sit his mom down in their living room to tell her he'd decided to join the Army, just as she, his stepfather James Nelson, grandfather, and uncles had all done.
"I want to serve my country and see the world," she remembers him saying. "I want to follow; I want to be led by leaders and learn how to lead."
"I felt like I was in an Army commercial," she says now, mustering a small laugh as she sits in the same room two and a half years later. "He said all the right things."
As she and her husband are both former active duty Army pilots, now in the Army Reserve, and with a military family history bridging two generations, Jovanna said his decision might not have sounded like a surprise. But coming from her son, the quietly confident, skilled cook and computer whiz, his decision to enlist in the infantry wasn't one the family saw coming.
"He was very mature about it but he didn't seem scared, and he didn't seem unsure of himself," she said. "He just wanted to do it."
Prior to him leaving for boot camp and training in Ft. Benning, Ga., in September 2010, after graduating from Hagerty High School in June, he and his dad trained together, going on practice ruck marches through their Chuluota neighborhood. Dressed in boots and loaded with gear, they'd trek down the road, now decorated in his honor, as his sister Hannah rode alongside on her scooter.
Brenden's uncle, Tab Bryant, a retired Army officer, said he got to see Brenden bloom as he went through training and became "a real soldier's soldier," one to serve as an example for others.
After training, Brenden was stationed in Vincenzo, Italy, until deploying to Afghanistan on July 12.
"I saw him and I was just so impressed with his attitude and how excited he was about what he was doing," Bryant said. "It was like he was on a quest — he was on a mission and it was like he'd found at this point in his life, his niche."
In May, while on a business trip to London, Jovanna decided with an hour and a half to spare between booking and take-off to make a day trip to visit Brenden in Italy before she made the trip back home across the pond.
"There was something that was telling her to get over there to see him," James said. "Motherly intuition I guess."
Jovanna said when she saw him in his element, living the European lifestyle on base as a soldier, that at 20 years old, she saw her son finding his groove and his place in life.
"I looked at him square in the face, and I said 'Brenden, is deploying something you want to do?' and he looked at me and goes, 'Hell yes, Mom, that's why I joined,'" she said. "No hesitation."
Honoring a hero
Members of the community lined the length of Red Bug Lake Road from Tuskawilla Boulevard to the State Road 417 overpass on Friday, Aug. 3.
More than 150 residents, along with members of the Oviedo police and fire departments came out to watch as Brenden's mile-and-a-half-long funeral processional made its way from St. Stephen Catholic Community Church in Winter Springs to the Florida National Cemetery in Bushnell.
"It's the very least we can do," Oviedo Fire Captain Lars White said.
Residents crowded under shade, or made their own with umbrellas, as they held flags in one hand and covered their hearts with the other as the processional passed by.
Bill Starmer said he didn't know Brenden or his family, but was drawn out to pay homage to a fallen soldier and hero.
Salazar's family has created a memorial Facebook page in his honor at facebook.com/brenden.salazar.1
"It's my duty to be here," said Will Breazeale, husband of Oviedo City manager Kathryn Breazeale and Army Reservist, who showed up in full military dress to salute the passing processional.
Jovanna said no words could describe the feeling she had seeing so many people show up to honor her son, even those who never met him or her family.
"People we don't even know were crying for Brenden," she said trailing off, her own eyes welling with tears.
"Humbling," James filled in. "It was incredibly humbling."
"It makes me proud to live in this community," Jovanna added. "We're so thankful for all of the support; it's been really unbelievable."
Brotherly love
For continued support, the family has set up a living trust fund for donations to be put toward his sister Hannah's medical treatments for cystic fibrosis. Jovanna said if Brenden had a say, he would want anything and everything possible to be done to support his little sister, who's spent much of the last two years in and out of the hospital.
Brenden had plans of his own for a tribute to Hannah, in the form of a tattoo dedicated to her on his inner-forearm. He'd left a space open, amid the tribal-inked design already circling his arm, to forever mark his dedication to her.
"He wanted to put her tribute on the inside of his arm so that in his mind he could go like this," Jovanna demonstrates, crossing her right arm across her chest to her left shoulder. "That way she'd always be close to his heart."
The trust, she said, will be the family's way of allowing Brenden to finish that tribute in a different way.
"This is keeping Brenden's legacy alive of wanting to give back to his sister," she said. "He wanted really badly to be there for her."