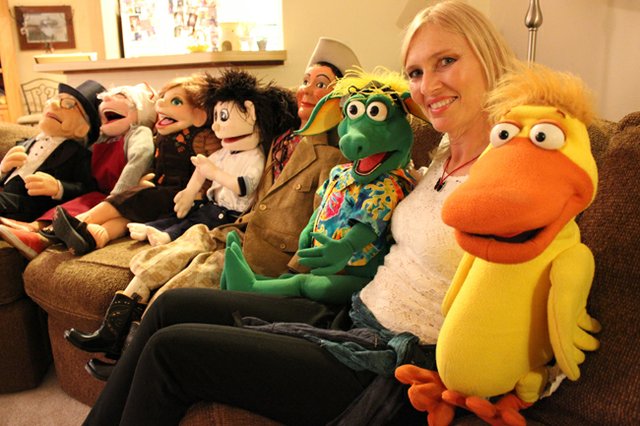 "Knock knock," says a pint-sized dragon puppet perched on an armchair.
"Who's there?" someone answers.
"Jacki," he says, his head bobbing up and down, as his mouth moves, remaining open, anxiously awaiting his punch line.
"Jacki, who?"
"See, she doesn't know who you are either!" he replies, turning toward the woman sharing his chair, who scoffs, rolling her eyes as the prankster puppet, Jo Jo Bean, breaks into a fit of laughter, his head thrown back dramatically.
Jo Jo Bean, his one-woman audience and many others in the community may not yet know Jacki Manna's name, but it's one that's been heard and listed on entertainment bills across the state, nation and world.
The Oviedo resident and Orlando teacher has made a name for herself without having to open her mouth — and talking almost entirely with her hands — as an accomplished ventriloquist for more than 20 years.
She's used her collection of 11 puppets, some hard, some soft – in both material and demeanor – as what she calls her own personal ministry. Her message is that of big aspirations and dreams, and her converts come as a congregation left leaving in laughter.
"My puppets can say anything, and at least for the hour I'm up there, kids will listen," Manna says. "It's important that the message they're hearing is good."
Initially inspired by a chance encounter turned lifelong friendship and mentorship with Howie Olsen, ventriloquist great of the 1940s and '50s, Manna took to the art of ventriloquism in her 30s.
She learned how to speak without moving her lips, avoiding the letters like B, M, P and V, to develop different accents and characters for her puppets, and to use the movement of her hand to match the voices coming out of her clenched mouth to put on a show.
She can quack like a duck, go Southern as old-time Cowboy Eddie or dopey as a Hawaiian shirt-wearing dragon.
"It's not like I'm super woman or anything, but I'm a kids and family entertainer, and I'll do what I need to do to entertain… Everyone's a kid a heart and everyone wants to be entertained," she says.
To learn more about Oviedo ventriloquist and magician Jacki Manna, visit mannaentertainment.com
Everyone, including the children she's performed for on mission trips through her church countries in Europe, South American and Asia, who she says often live in situations where it's hard to find reasons to smile.
"I go out there and try to make people happy and forget about their problems for one hour… there's power in laughter," she said.
Last month she traveled to the 36th Annual Vent Haven Convention in Ft. Mitchell, Ky., to share tips and tricks of the trade with ventriloquists from across the country, including Comedy Central favorite Jeff Dunham, who she says has made ventriloquism "cool again."
The rest of the summer she's spent putting on shows throughout Florida, for everything from birthday parties, summer camps and business luncheons.
"She's just hilarious," said Lisa Cook, co-pastor for Praise Place in Winter Park who regularly books Manna for events. "It's all around great entertainment… sometimes she even has the adults laughing louder than the kids."
Whether Jo Jo Bean, the smart-talking dragon, wants to admit it or not, Manna has made a name and a niche for herself in local family entertainment that Cook is quick to defend.
Manna says she's just doing her best to do what she does best — entertain.
"I get to make people feel like a kid again for at least an hour for my show, who wouldn't want to do that? … I think that's what keeps me going, spreading love and laughter to the community."