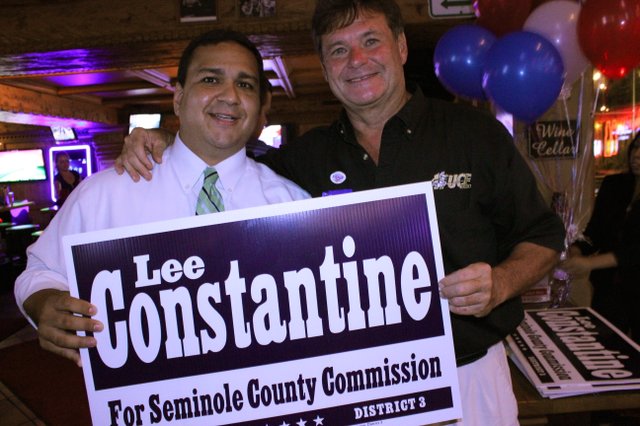 Longtime Florida legislator Lee Constantine clinched his chance for a seat on the Seminole County Commission beating out 20-year incumbent Dick Van Der Weide in the Republican primary election Tuesday night.
"I'm very happy and honored that Seminole County has chosen me to represent them," Constantine said in between congratulatory hugs and handshakes with those gathered with him at Jax 5th Ave Deli & Ale House in Lake Mary on Tuesday night. "We worked hard — everyone here worked really hard."
Constantine, of Altamonte Springs, won the ticket with 10,484 votes, giving him 33.33 percent of the vote compared to Van Der Weide's 8,124 votes and 25.83 percent. Don Epps and Kathleen Gallagher split the remainder of the night's votes.
"My opponents all worked hard, but I'm so honored that the people of Seminole County felt the goodwill to elect me to their County Commission," Constantine said.
With no Democrats qualifying for the District 3 seat race, come November Constantine will only face write-in candidate Kevin Gross on the ballot.
Van Der Weide, 73, had held a seat on the County Commission for the last 20 years, but couldn't overcome Constantine who brought with him name recognition and experience as a former state senator and representative.
Constantine represented Orange and Seminole counties in the Florida Senate from 2000 until 2010 when he reached his term limit. Prior to that, he served in the Florida House of Representatives from 1992 to 2000, and got his start in public service before then as mayor and commissioner in Altamonte Springs.
Longwood Commissioner Butch Bundy, in attendance at Constantine's victory party, said he looked forward to working with Constantine in county business in the future.
"He's always put the interest of Seminole County first," he said.
Before Tuesday's voting even began, nearly double the amount of early votes that had been cast early in 2008 were placed in Seminole County for the 2012 primary, said Supervisor of Elections Michael Ertel. By Aug. 11, the final day of early voting, 7,872 votes had been cast in house, and another 14,586 absentee ballots were counted. After the actual primary on Aug. 14, he predicted the county would likely end up with about an 18 percent turnout overall up from an 11 percent turnout in 2008.