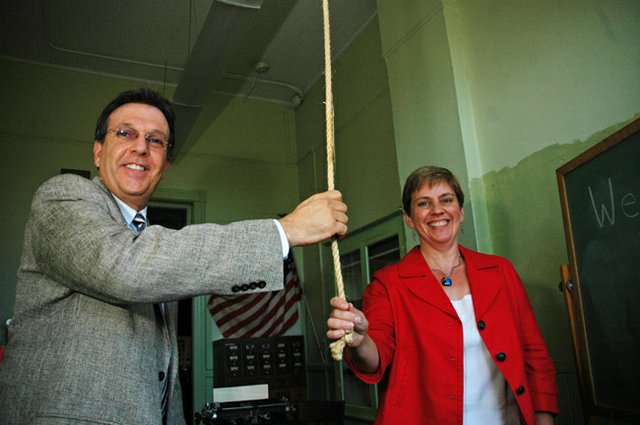 There's one building in the small town of Sanford where looking back is the most important thing you can do. Behind the orange-red bricks, the town's rich history reposes, old wood floors creak underfoot, and photos reflecting the past decorate 110-year-old walls.
Until recently, this felt like a place made only for the fourth-graders who came to explore Grandma's Attic and the pioneer's cabin. It was called the Student Museum, after all. But now, after a partnership between Seminole County Public Schools and the University of Central Florida, the building that's always treasured the past is glancing a bit into the future. Sanford's Student Museum is now called the Public History Center, and plans are moving forward to make this a place where everyone in the community can grab a little of their home's history.
"It isn't just for fourth-graders – it's for everybody," said Warren Jennison, a volunteer at the Center during the Center's unveiling on Monday morning, the first day of the 2012-2013 school year. "This is a change that's so worth it."
"It's the community's center," said Rosalind Beiler, UCF's director of public history.
Saving history
It will also preserve a program that's been in danger time and time again because of budget cuts. The 110-year-old school building, which has been used as an interactive learning facility for Sanford students, is now being run by UCF under a two-year lease — until June 2014 — and will cover operating costs until then. There will be changes to the curriculum, but the Public History Center will continue the very popular fourth-grade field trips and tours, providing cutting edge, hands-on learning.
For now, history will be saved, and that's what's most important to those passionate about the project.
"History is fundamental to understanding who we are," Beiler said. "We can't function without it."
"I think history is extremely important because it is a bond that can be shared by a community," said Ashley Wilt, program coordinator for the Center.
Community history
In addition to hands-on student learning, the Center will be a place for the public to join their own history, and there are plans for an oral history studio, workshops and the creation of regional heritage collections. There will be UCF instructors conducting research with their students. There will be open minds and ears to the community's ideas on what parts of their city's history needs to be highlighted.
"They're the ones who know it best," Wilt said.
"We're a town that loves our history, values our history," said Patty Mahany, Sanford city commissioner. "It's part of what makes a community a community."
The Public History Center, located at 301 W. 7th Street in Sanford, is now open to the public Monday, Tuesday and Thursday, Friday and Saturday from 9 a.m. to 5 p.m. It will not only continue the popular fourth-grade fieldtrip program, but also include more community-centered activities, for example workshops, gardening programs and open ears to residents' ideas about history projects.
The Center will host fun programs, including Halloween and Christmas events, and have traveling and new exhibits to keep the historical content fresh so that the community will return again and again.
Doing public history
Not only will it be a place for elementary school students and Sanford residents, but it will also be a learning lab for UCF students. Two classes will be held at the Center and interns will work there, putting what they learn to work as real advocates for the past, actually getting to "do" public history. Beiler said she hopes it will be an example for other schools and centers. They'll do research, build exhibits and make the Center easier to navigate without a guide.
"How many students can say they actually walked the walk?" said Tina Calderone, chairman of the Seminole County School Board.
While the lease is for two years, everyone involved hopes that the partnership will last much longer than that. They're forming permanent relationships with community members and have goals that reach further into the future than just 2014.