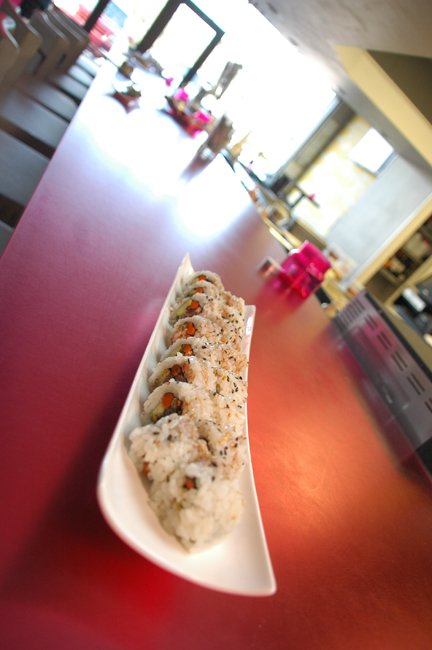 It's not quite two years since Sushi Pop first opened on Mitchell Hammock Road in Oviedo, and already Sushi Pop is a food destination for those who appreciate great food without the pretensions (or the prices) of the white tablecloth crowd.
Everyone associated with this eclectic take on pop culture and everything-fresh food has come here from some "big name" background to – understandably – work with, taste, have fun and serve the food of Owner/Chef Chau. Walking through the front door, under a pink neon sign, you are greeted by the decidedly all-American and always-smiling hostess Kelly, who is rockin' it in a blonde ponytail that turns pink halfway down her back. Kelly, found standing in front of a floating wall of pink plastic bubbles, walks us by hi-def screens of anime, past a glowing pink sushi-bar, under pink lotus-flower lamps, to our booth, where we found our chopsticks resting with Oriental perfection on a pink glass rock. It's as if all the fine artists who've made pink the "color of the year" got their inspiration from this Oviedo home of Japanese pop culture.
But we need to get to the food, where I intend to do justice to a menu that is first of all fun to read and, most importantly, our passport to bite after bite of some of the finest, freshest and most inventive food in all of Florida.
Japanese restaurant menu fun to read – really? My friends and I were determined to make a dent in this menu, and spent three hours exploring and tasting, laughing and sharing, and learning about what a great chef can do when he opens his own restaurant and runs it his way.
Take for example the simple edamame bean, served here in pepper and roasted garlic. Aregato. (Thank you). We now have a new reason to eat this nutritious bean. Or the appetizer that places the delicious – but often difficult to eat – pork belly inside a tortilla. This invention gives the "eats-like-butta" pork belly a handheld (and fun) way to get it from the plate to our mouths.
It was the It's No Yolk appetizer of cubed salmon, perfectly spiced and served with an "egg" of coconut milk and a side of homemade seaweed crackers, that said, "Yes, we play with words in the menu, but we never kid with the food." That appetizer's brilliant mix of tastes is a close runner up to the Hamachi Pop appetizer – my favorite of what we tasted. The Hamachi Pop is reason enough to find that pink neon sign on Mitchell Hammock Road. An ever-so-lightly seared tuna topped with creamy guacamole and dressed with kimchee vinaigrette, this fusion of tastes (from at least four different cultures) sums up all that is Sushi Pop in a single bite.
This wonder of tastes had been suggested by our server Andrea who – in one (extended) evening – became my candidate for Best Smile and Most Knowledgeable waitperson in Florida. There was simply no question she could not answer, and her suggestions were so spot on that Andrea is one more significant reason to visit this amazing place. One of Andrea's wow moments came when she informed us that a certain piece of fish had been caught at 4 p.m. on the day we were eating it.
From the nigiri menu, I tried the yellowtail – made special here with a lime-zest sauce – the salmon and the Wagyu topped with truffle salt, which adds a tiny crunch to this bite that is once more surprising and fun.
The highly recommended Sushi Pop, at 310 W. Mitchell Hammock Road in Oviedo, is open for dinner Tuesday through Sunday. Visit Sushipoprestauran... or call 407-542-5975.
From the Roll Out! Menu of "reinterpreted sushi rolls," I had to try the Hot Mess roll. Its well-earned name comes from a roll that is piled high with all the things that make life worth living; the Hot Mess is made of salmon, avocado, tuna, yellowtail, flounder, spicy mayo and … bacon. With so much happening in one roll, the taste is ever changing from one bite to the next. Brilliant.
And with a nod to those who want their food cooked, we chose the Surf and Turf, which consisted of amazingly tasty scallops and short ribs that had been marinated in wine and miso. The bet-you-can't-eat-just-one short rib literally melts in your mouth.
Having heard of the created-tableside Peanut Butter and Jelly Sorbet, we did save room for dessert and marveled as the lovely Andrea returned (with nitrogen canister) to take strawberry juice, stir up a sorbet concoction, top it with shaved peanut butter and then top it all with a lighter-than-air marshmallow foam. Save room. It's all too wonderful to pass up.