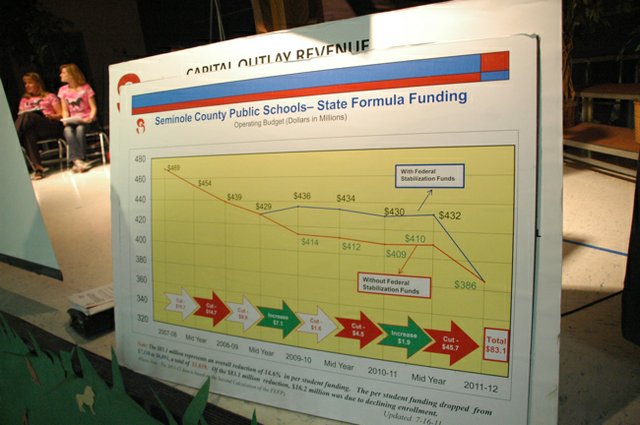 Gone for now are the talks of closing schools in Seminole County to balance the district's budget, and here now are talks of rezoning and voting to raise property taxes to make up the deficit.
Heading into Seminole County Public Schools 2012-2013 budget season, Chief Financial Officer for SCPS Brian Kelly said the district faced an $18.6 million shortfall. Compared to the more than $40 million deficit faced the year prior, the number may seem small, but the cuts necessary to make it up were substantial, Kelly said.
"Anytime you have to cut services for the students it's never easy," he said.
Rather than the massive cuts and talks of school closures that storied last year's budget season, he said this year is all about the district working with what they've got to become more efficient.
As students and faculty settle in the new school year, Kelly breaks down the numbers of exactly what it is that they're working with this year: 49 fewer teacher positions, 7.5 percent less custodial support staff, 20 percent less funding for assistant sports coaches, and 17 fewer bus routes, to name a few.
The school year also brings with it a new superintendent, Walt Griffin, who says he too is working to make those numbers work the best he can while also working to improve the efficiency of other district programs, such as the county's virtual school and district marketing initiatives, as well as plans for rezoning schools for next year.
"We have a great product, but I don't think we have a great manner of letting everyone know how great we are," Griffin said.
School Board Member Karen Almond said changes to the schools affect more than just the students, but the entire community, so having to make any cuts to school services is never a want, but a necessary need.
"We're working the best we can to be good stewards of people's money," she said.
To remain fiscally responsible, while also working with what the district has, Griffin says the rezoning of schools within the county is necessary. Overcrowding in some schools, and empty classrooms in others, he said, makes rezoning for next year's school year something that has to be done to help improve both students' classroom environments and school budgeting.
On Nov. 6, a referendum will be up to vote for Seminole County residents to decide whether or not to allow the School Board the ability to levy up to one additional mil in property taxes as they deem fit for the next four years. Chief Financial Officer for SCPS Brian Kelly explains that that one mil would equate to up to $130 additional per year in property taxes for an average Seminole County homeowner with a home valued at $155,000 and $25,000 homestead exemption.
"The thing that makes it a little more palatable," he said, "is that all our schools are great schools."
The talk of rezoning rather than school closings has parents at Geneva Elementary School breathing a sigh of relief after fighting tirelessly to safe their school from budget-fueled proposals of closing it last year.
Parent Christina Wydra said there's a good chance her daughter might no longer fall within Geneva Elementary lines due to her home's distance to the school following rezoning, but that if changing schools is necessary to help the School Board meet it's budget and be more financially responsible, she'll accept the change.
For a full breakdown of the Seminole County Public Schools approved 2013 tentative budget, visit http://www.scps.k... and click on the "2012-2013 Budget Planning" button.
"It's a really emotional debate," she said. "But I think what the School Board and the parents, hopefully, need to pay attention to is the money and the dollars."
Between changes in zoning and funding hanging in the balance with the proposed millage increase on the ballot, Superintendent Griffin acknowledged that the next year is going to be a tipping point for the county's schools as far as funding.
"It will be a very interesting school year, with the millage and the rezoning there's a lot in the air. It's been like, 'Hey, welcome to the School Board, Mr. Griffin! Now take on all of this,'" Wydra said with a laugh.