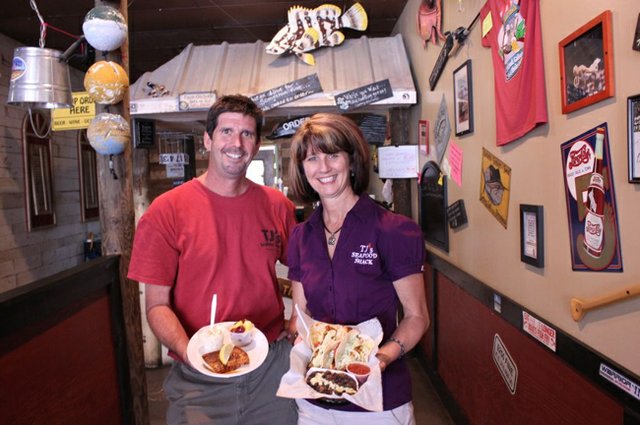 As plans for an expansive town center development take shape around them, businesses in the plaza near Oviedo on the Park are preparing for what they hope is an increase in foot traffic.
The plaza at the intersection of Mitchell Hammock Road and State Road 434, just west of the planned Oviedo on the Park, has five empty storefronts. Business owners say they hope that number will decrease as excitement builds for the 61-acre, estimated $200 million project.
Winter Park-based developer PAC Land Development is scheduled to start construction on 250 residential units during the first quarter of 2013. The project also includes 85,000 square feet of commercial, office, restaurant and entertainment space, including an amphitheater.
Oviedo Mayor Dominic Persampiere says the project should boost occupancy of business not only in this plaza, which is anchored by LA Fitness and Outback Steakhouse with local favorite TJ's Seafood Shack in the middle, but in what will be Oviedo's new downtown center.
"Rising tides raise all ships," he said, adding that the mix of park and recreational space with retail and commercial properties – starting with the currently under-construction Panera Bread on Mitchell Hammock Road – mean the start of good things for Oviedo commerce.
There's an optimistic but anxious mood among business owners in the plaza as they await increased foot traffic that they expect to result from the project.
Newcomer David Coker, owner of Beefit Nutrition in the plaza, said most of his business comes from those visiting LA Fitness, and more stores can only mean more people walking by and stopping in.
"It should be a good thing for the plaza as long as it brings in more business," he said.
Crystal Lackey, owner of Esbi Int'l Salon, also hopes that the addition of Oviedo on the Park will increase commerce in the downtown area and raise awareness of the businesses currently operating in the plaza.
She said she chose this location seven years ago because of the plans for the downtown next door, only to have the downtown put on hold during the recession and then further postponed after the suicide of Broad Street Partners developer Steve Walsh in 2008.
She said she's happy to see the project finally coming together.
"I think it will bring a lot of growth to the area and to the city," she said.
TJ's branching out
Since opening in the plaza four years ago, Tim Shepardson, owner of TJ's Seafood Shack, says his business has been booming. And he hopes that will continue as Oviedo on the Park takes shape.
"I think it's going to be great for all of the businesses here," he said.
TJ's Seafood Shack is located at 197 E. Mitchell Hammock Road in Oviedo. Visit tjsseafoodshack.com for more information.
To keep up to date on the development plans of Oviedo on the Park, visit cityofoviedo.net
"I think it'll keep more people inside of Oviedo instead of going outside the city to get the things they want," his sister and co-owner Mary Strickland said.
TJ's itself is also looking to grow, Shepardson said. He's currently searching for the perfect spot to open a second location in the Orlando area. Winter Park or Maitland, he said, are both on TJ's radar.
But getting bigger doesn't mean forgetting where the restaurant came from, he said, as Oviedo will always be TJ's hometown as they continue to grow their offerings of fresh, fairly priced seafood in their current space.
"We're not leaving Oviedo, heck no!" he said. "This is our roots."