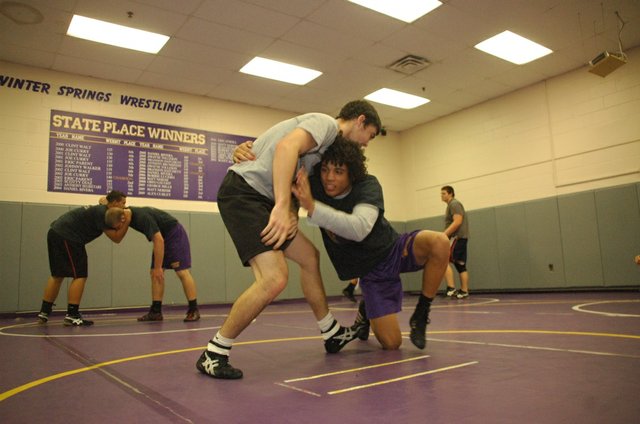 Winter Springs wrestling is making a name for itself in Central Florida, stealing the limelight from the long-dominant Oviedo team right down the road. Jan. 22 they won the Seminole Athletic Conference championship with top performances from individuals and the team.
"We had a record setting performance yesterday," Coach Scott Gomrad said.
The varsity team broke school records for most champions with eight, most finalists with 10, and most place winners with 13. The Bears' eight champions were led by five seniors, Taevin Stoney, Eric O'Neill, Joe Davila and Scott Accomando. Juniors Johnny Morgan and Patrick Cobb also won championships, with sophomores Austin Day and Brandon Rod rounding out the team's long list of champions.
The team's SAC title was only the second in the school's history, after an 11-year streak of wins by former conference dominator Oviedo.
This weekend the team heads to a hotly-contested district championship meet at DeLand, starting at 10 a.m. Saturday. There they'll find a rematch with Oviedo, which will be looking to regroup after being dethroned at the SAC tournament.