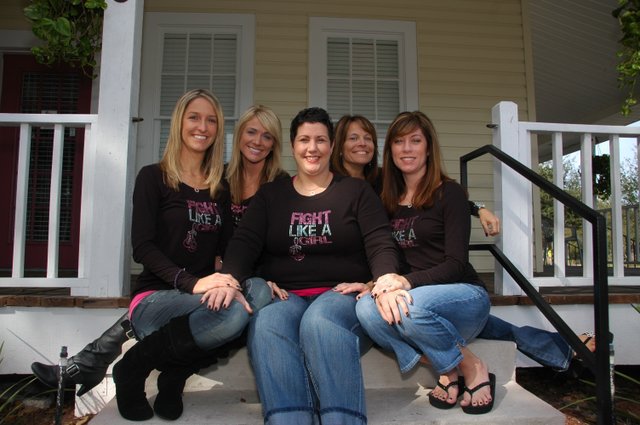 Decked out in coordinated black and pink outfits, Robyn Ungaro and her four best friends boarded an early morning flight from Orlando International to John F. Kennedy Airport last week.
A three hour flight, limo ride and champagne toast later, the girls were greeted in the Kardashian Suite of the Gansevoort Park Hotel with giggles, screams, cheers and more champagne, by the woman who was responsible for getting them there: Kelly Ripa.
"Is this for real?" Ungaro asked no one in particular and everyone at the same time. Ripa reached over and pinched her, as if to say "Yes." She wasn't dreaming.
Weeks earlier Ungaro, of Chuluota, had written a letter to Ripa as an entry in her Girls Night Out: New York edition competition as to why she and her four best friends — or the 'A-Team' or 'Angel Team' as she calls them — deserved a girls week in New York with Kelly.
Just eight months ago, in June 2011, Ungaro, 37, was diagnosed with stage four, triple negative breast cancer. In those months the cancer spread rapidly to her hips, thighs, lower back, bones and liver. Through the support of her family, friends, community and A-Team — composed of Christie Muzzone and Janet Miller of Winter Springs, Kim Kalinowski of Casselberry, and Kristen Denny of Oviedo — Ungaro says she has learned to 'fight like a girl' and continue through treatment.
But she says she wasn't writing Kelly as a sob story for herself, but instead as a story of hope and of thankfulness for her A-Team for sticking with her through all the highs and lows since her diagnosis.
To see clips of the girls' time in NYC hanging with Kelly Ripa, visit dadt.com/live.
"I can say that since June with everyone always around and supporting me, it's felt like my birthday every day," she said. "I wanted the girls, even for just a few days, to be able to see what that kind of support feels like."
Going Live!
In their customized matching rhinestone embellished "Fight Like a Girl" T-shirts, with "A-Team" embellished on the backs, the girls were ready to take on New York.
From a day at the spa with manicure, massages and cosmopolitans, and a spinning workout class with Kelly, to a day of pranks pulled on them by TV host Howie Mandel, and clubbing and karaoke with Twilight star Peter Facinelli (Carlisle Cullen), the five-some stretched their girls night out into five days of New York fun.
"It was like having a fake life for a week," Miller said. "It was crazy!"
"It's definitely an experience none of us will ever forget," Ungaro added.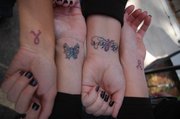 In addition to coming back with a week's worth of unforgettable memories, the girls each came back with another permanent reminder of not only their trip, but what brought them there: pink breast cancer ribbon tattoos on each of their wrists.
"I think New York made us a little crazy," Kalinowski said with a laugh, eyeing her tattoo and black-bejeweled finger nail polish.
"But a good crazy," Denny clarified.
Staying strong
Ungaro is still fighting, and getting treatments on and off weekly to keep the cancer at bay.
"I don't have an end stage," she said. "I'm still going through it all, still fighting… but I want people to know that when you're diagnosed, you're life isn't over."
It hasn't been easy — there's been anger, tears and frustration — but the group says they always try to manage to come out of whatever situation they're put in with a smile.
"We always say you never know what tomorrow is going to bring," Miller said, "but you don't realize how true that is until something like this happens. It's taught us all to live in and cherish every moment."
The group gives credit to Ungaro herself for keeping the A-Team's spirits up even in the toughest of circumstances.
"She just has the most amazing spirit," Muzzone said, "anywhere she goes she's like that — you would never even know she was sick."
Ungaro says it's not always easy to stay strong, but she tells herself there has to be a greater reason why she was given this cancer, and that she needs to make the best of the hand she's been dealt.
"Sometimes maybe I think I was given this because I could handle it, and I can use my experience to help other people get through it," she said.
As for the A-Team, they are the ones there to help make sure she does it through it, with one of them always by her side when she goes in for treatment, and another with a shoulder to cry on when reality becomes overwhelming, and yet another there with a silly song and dance to cheer her on.
"They make me better," Ungaro said. "I don't have a sister, so this is the closest I've ever had to a sisterhood."