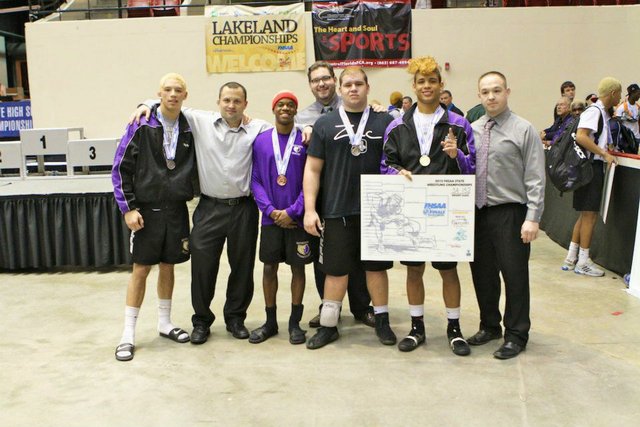 Winter Springs may have seen higher rungs on the state wrestling championship ladder, but not by much. On Feb. 18 the Bears climbed nearly as high as they had ever been, setting team records in the process of placing fifth out of 124 teams at the FHSAA championships.
"The kids had a great weekend," Coach Scott Gomrad said. "They had a lot of fun."
In this case fun means a state champion, state runner-up, a third place and a fourth place finisher among the team's ranks. For 152-pound senior Eric O'Neill, with bleached hair flowing out of the top of his wrestling headgear, back-to-back wrestling championships will end his high school career on a high note.
Always the team heavyweight, Scott Accomando went out with a bang in his senior year, placing a close runner up in the 285-pound class. Senior Joe Davila also finished strong, with a fourth place finish in the 170-pound class.
But it may be 120-pound senior Taevin Stoney who was the most jubilant of all. In three years on the team, after a sophomore debut that went 0-8, after a junior year when he went 10-15 and missed the postseason entirely, he finally found his spotlight.
The longtime understudy of a deep 120-pound class for the Bears, he entered his final season with a clear shot of the postseason, if he was willing to fight for it.
"He'd never wrestled in the postseason, then as a senior he won the conference tournament and district tournament," Gomrad said.
He fought his way into the state championships in Lakeland, only to lose 8-1 in the first round. For many, that moral loss would knock them out of the tournament mentally, Gomrad said.
There are only four rounds separating a wrestler from the championship if he wins them all. Stoney's loss put him on a much tougher path. After losing his first round, he had to win four consolation rounds just to have a shot at a final match to determine third place.
But Stoney battled back, and through a grueling series of five consolation rounds he fought his way to the podium, then into third place.
"He dug deep and challenged himself to rip off five straight wins in the next five rounds," Gomrad said. "I've never seen anything like it. It was a great lesson for our future kids that when they go down there to battle, it proves the power of the human spirit."
In the end the Bears had among their ranks an elite eight including top-10 placers Austin Day, Johnny Morgan, Patrick Cobb and Brandon Rod, filling out nearly every weight class in a Bears uniform.
After starting what could have been a rebuilding year, the Bears did well, Gomrad said.
"We were taking pride in this not being a year that we'd have to take a step back," he said. "We just had a tremendous group of kids who all stayed together."