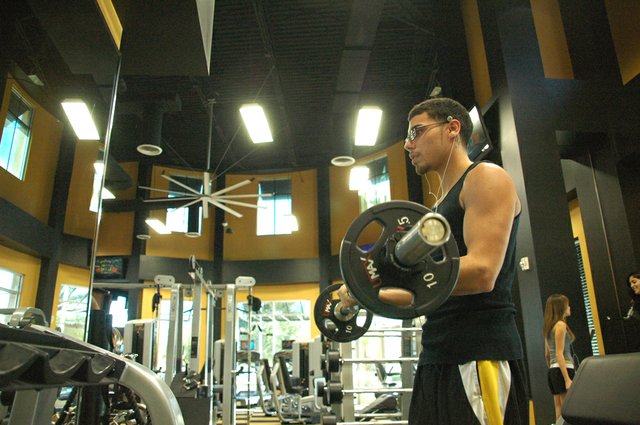 Chris LaRocca believes in family. Perhaps that's why his customers feel that way when they enter his new fitness center, The Zoo Health Club, which opened last month in the Winter Springs Town Center.
Bright and airy inside, the new gym lets the afternoon light in through windows reaching from the floor to the 20 foot ceiling. LaRocca and his staff are just as open and inviting as guests walk through the door.
Built like the college football player he once was, LaRocca is a friendly, outgoing man who is eager to share his passion for fitness. As a 10-year cancer survivor, he knows what it means to struggle to reach a goal and how important good health is to a person's overall wellbeing.
This "second chance at life," as he calls it, has given him the opportunity to pursue his dreams. "I just love seeing and helping people achieve their own health and fitness goals," he said.
"What I love is seeing people have a good time. Making it enjoyable is what it's all about," LaRocca said.
The 6,500-square-foot gym features everything one would expect from a first-class center. Racks of gleaming chrome free weights stretch along a mirrored wall as treadmills, ellipticals, stair-steppers and cycles with hi-tech iPod-ready audio-video systems help keep hearts pumping in the middle of the gym floor.
But this isn't just a bare bones pump and run sweatshop. Zoo Fitness offers an assortment of classes from belly dancing and yoga to R.I.P.P.E.D., a total body workout designed to burn fat and build muscle.
The Zoo also features Zumba classes, the latin-inspired dance-fitness craze that's spread nationwide faster than the blistering tempo of this pulse-pumping workout. LaRocca said the class is such a hit with his members that he's thinking about adding a kids' version called Zumbatomic in the near future.
Located in the Town Center right in the middle of a growing family-oriented community, The Zoo Health Club is a perfect fit, said Oviedo-Winter Springs Regional Chamber of Commerce President Cory Skeates.
"It's an impressive place," he said. "It's great because while people are there, they are also visiting other shops, perhaps eating at one of the restaurants or visiting Publix before they head home."
As a local resident from Oviedo, LaRocca really wanted this business to be part of a close-knit community.
He recalled driving back and forth on the way to his kids' football and basketball practice, thinking that it would be a perfect place to follow his dream of opening a fitness center that would have family at its heart.
"I kept looking at this corner location," he said, "and finally, it came to fruition."
Winter Springs High School senior Lauren Greed signed up with her mom during pre-enrollment before the gym even opened.
"I come here every day," said Greed. "It's convenient and it's nice to see the same people in here. I feel comfortable because it's a smaller gym, so it's more personal."
Under the whir of two colossal fans hanging from the high ceiling, members and staff chat easily with each other, offering advice or an encouraging word.
"I've only been a member for one week," Carmen Santiago said, "and already it feels like family here. The staff are so nice and they know my name. They are always asking if they can help," she said.
Santiago used to drive to a gym in Longwood, but when it closed, she went looking for a new place.
"This one was just so close to home and it's nice and clean," she said. "Plus, you can't beat the prices, it's much cheaper than other gyms," she said.
Basic memberships begin at $15 and signing up for the Zoo Card plan offers benefits
such as free tanning and half price classes. Location also seems to be a selling point for many. According to staffers, some of the members even jog to the gym from home, or take advantage of the Seminole County trail system right outside the Town Center.
This formula of location, service and family atmosphere is key to the new gym's success, LaRocca said.
"We've been open six weeks and we are very pleased by the response," he said. "Most of our new members have come by word of mouth.We had a vision for a mom-and-pop feel and that's kind of where we would like to keep it, where the members know us and we know them by name."
The Zoo Health Club, 160 Tuskawilla Road, Ste. 1214, Winter Springs, which opened in December, offers memberships as low as $15 per month for individuals and $62.50 per month for a family of four. Hours are 4 a.m. to midnight, 7 days a week. Contact them at 407-327-1056 or find them on Facebook.