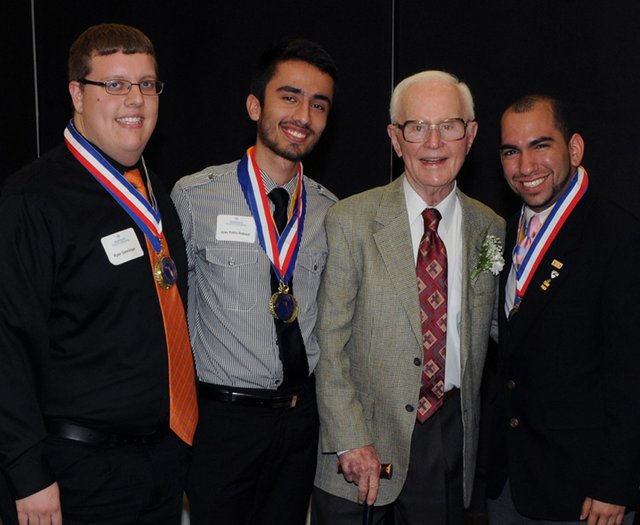 Longtime Orlando residents will remember Art Grindle best for the TV commercials that featured him leaping on cars at his Dodge dealership and shouting, "I want to sell you a car!"
When the former Florida legislator and businessman passed away June 10, Seminole State College of Florida lost one of its most generous benefactors.
Those close to Seminole State will remember him for the legacy he left the College, which includes the first individual $1 million donation, Seminole State College President Dr. E. Ann McGee said.
"Art will be remembered for so many things, but our students will remember him because he made their futures possible," McGee said. "He was a steadfast supporter of Seminole State College for over three decades. From co-founding our Dream Gala in 1984, to the naming of the Art & Phyllis Grindle Honors Institute in 2006, his legacy of helping others will long survive him."
The Grindle family's Honors endowment funds scholarships for honors students, brings national speakers to Seminole State, funds travel-abroad programs, and affords honors students the ability to attend national conferences.
Students who complete the Grindle Honors Institute have won some of the largest scholarships available to college transfer students. Seminole State is the only college among 1,200 in the nation to have seven consecutive Jack Kent Cooke Scholars. The JKC scholarship, worth more than $30,000, is considered the most prestigious for two-year graduates.
Daniel Leon, a 2011 Jack Kent Cooke Scholar who now attends American University, said Grindle took an interest in mentoring the honors students, often stopping by the Honors Center to visit with them.
"There was something unique about him," Leon said. "With Mr. Grindle, there was an emotional investment in the students. It's something that is also unique about the Honors Program at Seminole State."
Seminole County School Board Member Dede Schaffner says she and her late husband, Bill, were friends with the Grindles for years.
Grindle loved meeting the students, Schaffner said.
"He loved to know he was making a difference," Schaffner said. "That's what Art Grindle was all about."
A memorial service for Art and Phyllis Grindle will be held on Friday, July 20, in the Fine Arts Concert Hall on Seminole State's Sanford/Lake Mary Campus. The Grindle family has established a memorial scholarship for Honors students. Donations can be made to the scholarship in care of the Foundation for Seminole State College.
Please visit http://www.seminolestate.edu/foundation/ for more information.