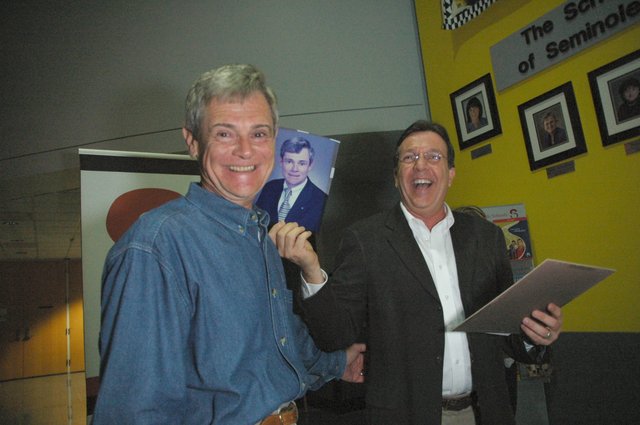 Bill Vogel pulled off his nametag for the last time in the early hours of July 1, handing his duties to successor Walt Griffin and saying goodbye to friends and coworkers.
Amid the muggy heat of the Seminole County Schools administration building lobby, the outgoing schools superintendent handed over the keys and said some last words before embarking on retirement. He'd worked in school systems in Central Florida for 40 years.
"I'm leaving the school system in good hands," Vogel said. Griffin had been the director of high schools under Vogel, helping implement new programs that affected the entire county.
Dozens of friends and fellow teachers and administrators turned out to the late night changing of the guard, and to celebrate Vogel's long legacy.
Holding up a photograph of Vogel when he first became head of the school system in 2003, Griffin laughed about how long ago it seemed.
"He could have been a student," Griffin said.
Vogel presided over a tumultuous time of state budget cuts that devastated the school system's budget. Those cuts continue, and Griffin is left to steer the school system through those rough waters.
For Vogel, who retires to the west coast of Florida, it'll be smooth sailing as he looks to enjoy life on the water.
"I'm looking forward to it," he said. "But I'll miss this."