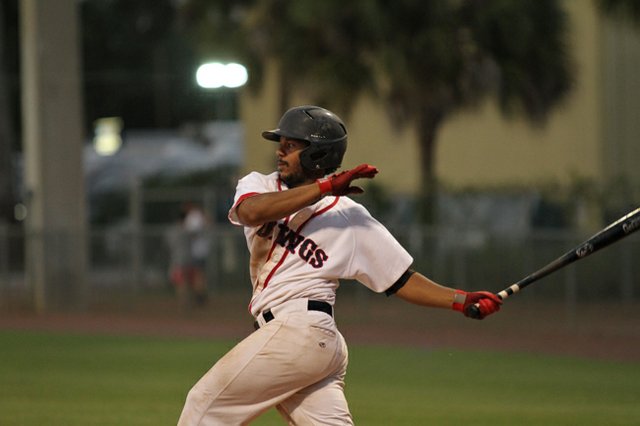 Sanford is still waiting to find its winning ways, but a doubleheader sweep will help. The River Rats beat the league-basement-dwelling Orlando Freedom twice in two bizarre slugfests on July 10 to nab their first winning streak of the season. Now all they have to do is keep up with the streaking Diamond Dawgs.

The Winter Park Diamond Dawgs are in a tie for the league lead after leaping two spots on the ladder thanks to a seven-game winning streak.
And some of those wins have been nail-biters, with the Dawgs just squeaking by on a run or two lead. But in all of those games, the Dawgs have found something they've struggled with throughout the season — consistent run production.
The Dawgs have averaged nearly nine runs per game over the course of their season-saving streak, which has put them in a tie with the Leesburg Lightning at the top of the Florida Collegiate Summer League.
The irony of the Dawgs finally getting their groove back is heavy hitter Michael Danner somewhat losing his own, falling below .400 for the first time this season. But his .398 batting average still leads the league by a wide margin, and his third long ball of the season puts him in a tie for fifth for going yard.
Meanwhile the Dawgs' top starter, Anthony Figliolia, finally had his ludicrous 0.00 ERA end, but after giving up his first run of the season after 22 innings pitched, he remains the league's best at 0.41.
The Dawgs played the Rats at press time Wednesday, and hit the road for DeLand at 7 p.m. Thursday and Orlando at 7 p.m. Friday, but they'll return home against Sanford at 7 p.m. Saturday to play the River Rats again. Before that, the Rats will host the Freedom on Thursday and Friday, both games starting at 7 p.m.