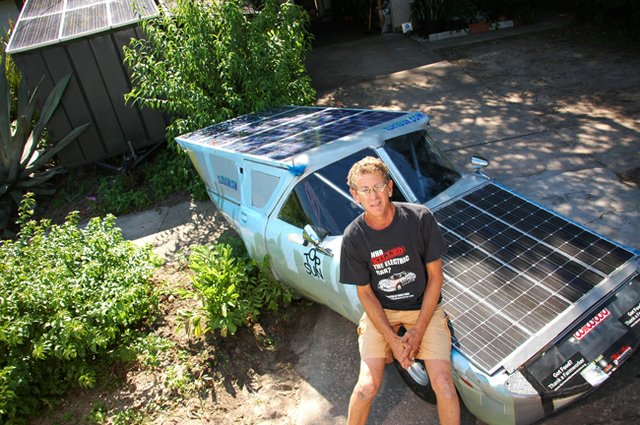 Larry Wexler has a dream for solar energy.
The 54-year-old inventor envisions a fleet of vehicles like his own, a three-wheeled, eight-foot car that he's built himself, completely coated with and powered by solar panels.
He sees his own startup company producing solar cars cheaply and affordably for consumers, who save fuel, money and time by powering up through charging stations throughout Central Florida run by other energy companies. To Wexler, there was a time that the future of solar energy was just peaking over the horizon.
But that was years ago, and now it seems Wexler's once-bright vision has been eclipsed by forces beyond his control. Consumers and investors, especially in the Sunshine State, still treat solar energy like a distant and unwelcome cousin, and Wexler, with no business training of his own, has been unable to find someone willing to help put him and his car on the right track.
A rolling experiment
"I have the technology," Wexler said, "but I need someone with me every day to help me make money. It's almost impossible to do this without a business degree, which I lack."
Wexler, who lives near Altamonte Springs, conceived the idea of a solar-powered car nearly 30 years ago, but didn't pursue it until after he left his job of 20 years as an interior landscaper. Completed after six months of labor and $10,000 in parts, his vehicle can cruise at speeds up to 45 mph and can run for about two hours on its 30 ampere battery pack. The sun's rays provide power to the battery pack, but Wexler says the sun also provides an additional 10 amps of power on its own.
"Even with bad batteries, I'm not gonna get stuck with the sun out," he says.
Wexler's car uses photovoltaic electricity, which comes from converting the stored energy from the sun into electric watts. Although batteries are an effective method, they've only become popular in recent years, said Bill Young, a senior research engineer at the Florida Solar Energy Center. Solar energy input and output has turned toward bimodal power, which uses both batteries as well as power from a grid system, a trend spurred on by the damage of past hurricane seasons.
Off the grid
"We started using grids and had batteries," Young said. "To be cheaper, we discarded batteries and only had grid power. With hurricanes, we had to move to bimodal again, because when power goes out on the grid, without batteries you're in the dark."
Young said that utility companies have been making moves toward generating solar energy by building larger and more equipped power plants that can produce up to 10 megawatts of power. The benefits of no fuel cost and no pollution have enticed companies towards solar, but residential owners are still hesitant to adopt the technology.
"What they need to look at is their electric cars and their solar system as an investment, like a house. You pay for the system up front, and then you have a return on your system," Young said.
Lawrence Hefler, director of corporate marketing for BlueChip Energy, a solar energy provider that manufactures, sells and installs solar technology, agrees that the knowledge and awareness of solar energy's benefits need to be raised in consumers' minds.
"There's still a need for major education. Florida is not a solar state, even though we're the Sunshine State. Once homeowners and businesses understand, it'll make sense," Hefler said.
At their headquarters in Lake Mary, BlueChip owns and operates the largest privately owned solar array in the state, which sits on the building's roof generating 1.6 megawatts (MW). Hefler boasts that they've practically wiped out the company's electric bill, which was previously $14,000 a month. Now, it's $14.
Cloudy skies
Although businesses are taking steps forward in promoting the benefits of solar technology, Florida's solar initiatives lag behind other states. The Solar Energy Industries Association ranked Florida at No.14 in solar installations, placing the Sunshine State in the shadow of Massachusetts, Ohio and New Jersey. Lacking a renewable energy policy or government incentives, Florida added 2.8 MW of solar energy in the first quarter of this year, while first-place New Jersey added 174 MW.
Florida's Solar Energy Systems program, enacted in 2006 under former Gov. Charlie Crist, offered a rebate of $4 per watt for energy powered by solar technology, guaranteeing homeowners up to $20,000. However, the state ran out of money for the program before it expired in June 2010, Young said, leading state legislators to discontinue it.
Wexler and his sun-powered startup still have a way to go before their future looks bright again. Although he's still shopping for a business partner of almost any background, Wexler doesn't quite know what road he'll be taking next, and whether it'll be in his mobile sun cruiser.
"Last few times I rode it, I was happy," he said. "It's there — the technology works. But I can't promote it by myself. I can't prove it with my words alone."