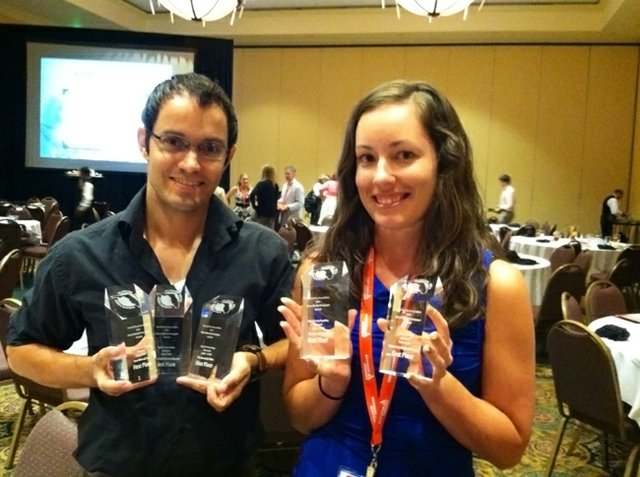 The Seminole Voice and its sister newspapers won seven awards against the best in the state at the Florida Press Association Better Weekly Newspaper awards on Saturday, July 7, in Destin.
The Community Media Division of Turnstile Media Group, which includes the Voice, Winter Park-Maitland Observer and East Orlando Sun won a total of seven awards, including five first place awards.
• Editor Isaac Babcock's first-place sports feature "Brittany's game" told the story of an autistic Seminole County girl's attempt to win the gold medal at the 2011 Special Olympics World Games in Athens. One judge wrote, "This was the entry written with most energy of any in the category."
• Babcock's story "American dreamer," chronicling two Northland Church missionaries' fight to adopt a Namibian girl with spina bifida, earned first place in the faith and family reporting category. One judge wrote, "Beautifully written account of one girl's difficult journey. We really come to care about Elizabeth and to rejoice in the happiness she's found."
Congratulations to the Community Media team and to the Seminole County community. Thank you for allowing us to tell your amazing stories!
—Jenny Andreasson
Managing editor
Community Media awards:
Click the links to read these award-winning works.
Sports Feature Story, Division C circulation under 7,000
First Place – Winter Park-Maitland Observer, "Rollins resurrects a legacy," Isaac Babcock
Serious Column, Division C circulation under 7,000
First Place – Winter Park- Maitland Observer, "Living the role of Samson," Louis Roney
Sports Feature Story, Division B circulation 7,000 to 15,000
First Place – The Seminole Voice, "Brittany's game," Isaac Babcock
Faith and Family Reporting, Division B circulation 7,000 to 15,000
First Place – The Seminole Voice, "American dreamer," Isaac Babcock
Local Government Reporting, Division A circulation over 15,000
First Place – East Orlando Sun, "Water tests promised for Bithlo," Megan Stokes
Health, Medical and Science Reporting, Division C circulation under 7,000
Second Place – Winter-Park Maitland Observer, "Photographic memories," Brittni Johnson
In-Depth Reporting, Division A circulation over 15,000
Third Place – East Orlando Sun, "Kid says to be a helmet hero," Megan Stokes