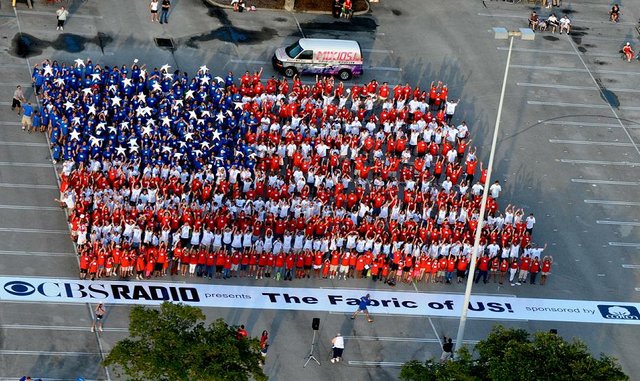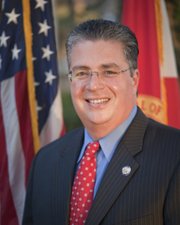 July turned out to be a firecracker of a month. Our July 4 celebration at the Oviedo Mall was a hit! The crowd swelled to an estimated 14,000 people for the fireworks with about 28,000 filtering in and out throughout the day. The day was punctuated with fun, games, food and great entertainment from Jim Van Fleet & the Reign and Jake & The Elwood Blues Revue.
The real celebration took place as our citizens came together to show their spirit by waving the "human" flag. More than 800 of our citizens participated in waving the "human" flag to celebrate Independence Day. The event was sponsored by Cotton Inc. and local CBS radio station MIX 105.1 FM. Each participant received either a red, white or blue T-shirt, proudly made in the USA by North Carolina-based TSDesigns, to wear for the event. We're proud it's our Oviedo!
Crime fighting takes a new twist
July also highlighted the exceptional work of one of our police officers. The International Crime Free Association awarded Sgt. Kim Mojica as 2012 Officer of the Year for her efforts to increase the awareness of crime prevention strategies here and around the world. Mojica trained for, and implemented, the Crime Free Multi-Housing program in Oviedo. She also took the initiative to professionalize the program's training materials, and through her efforts, got the training materials featured on the Crime Free Multi-Housing Program's website. Mojica has been asked to teach other agencies about this program. We congratulate and honor Sgt. Kim Mojica for her excellent work.
The Crime Free Multi-Housing Program is an international, state-of-the-art crime prevention program designed to reduce crime, drugs and gangs on apartment properties. The program consists of three phases that must be completed under the supervision of the local police department. Property managers become individually certified in each phase, and the property becomes certified upon successful completion of all three phases. Currently, Oviedo has two certified complexes and another working toward certification.