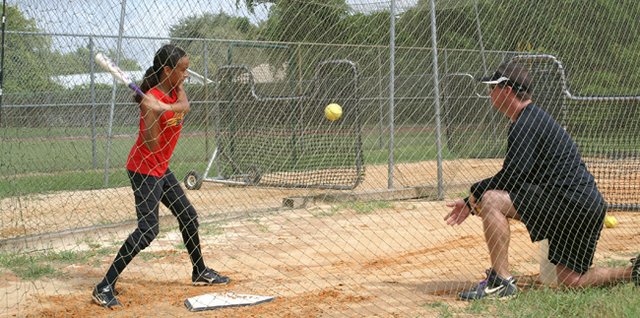 Parents call them "the two-out rally team." They have two pitchers and one catcher, when most teams play with double that. They faced elimination and an early trip home during almost every one of their games in the district and state tournaments this year.
But the Oviedo 12-and-under softball team still came out on top.
In the double elimination district tournament, the team lost their first game, putting their championship run on the wire. Pulling off several close wins, they made it to the district championship, where they defeated Winter Park twice in a row to hoist the trophy.
But they faced a more difficult challenge at the state series. Winter Park got revenge in the second round, immediately knocking the team to the losers' bracket. They were forced to eke out seven wins in a row over the course of three days, with several games coming down to just one run. Now, they're bound for the World Series in Alachua next week.
"I guess you could say we like to do things the hard way," said Coach Steve Miller, an eight-year veteran of coaching softball. Miller will take his players to the World Series for the third time in a row this year, and came away with the title last year. "I like to think we play well, but it seems we won't play well until when our backs are against the wall."
With only two pitchers and one catcher among a team of 11, the team faces plenty of competition in the Oviedo Babe Ruth League. Over 900 kids from all over Oviedo participate in the league, making it the largest in the Southeast, said League President Rod Shaw, who is also an assistant coach with Miller's team. But to Shaw, it's Miller's tightly scheduled practices and intense conditioning that push the girls to success.
"We have every minute planned out as to exactly what we want to work on," Shaw said. "Our girls have plenty of spirit, but what we like to do is get them out here during practice in the hot conditions. That makes it easier to get used to it and keep that energy in the game."
For 45 minutes during practice, the girls do rigorous cardio and core workouts, including push-ups, pull-ups and planking exercises.
"We've been doing it all summer, so we've gotten pretty used to it," outfielder Sidney Andersen said. "It's hard work, but we're definitely getting ready."
Miller, Shaw and the girls will leave Aug.1 for the World Series Championship, which takes place from Aug. 2 to Aug. 8 in Alachua. More than 15 teams will be divided into pools, and after several rounds, teams will advance to a single elimination tournament. For most of the players from Oviedo, this will be their first trip to Alachua, as only three players returned from last year.
"I'm looking forward to their reaction to it all, to experiencing the pomp and circumstance of it…. I think that's gonna be a great experience for them," Miller said.
For Morgan Pleasants, it was a tough journey to get to her first World Series.
As backup catcher, Pleasants played one or two innings a game, but that all changed in the district championship game, when starting catcher Andersen suffered a wrist injury and Pleasants was called on to take her place.
"I was nervous, but excited. It felt like a lot of pressure, but I knew I could do it," Pleasants said.
She continued to play catcher throughout the state tournament, fielding seven games in three days under the heavy catcher's gear and the sweltering heat, which Shaw said often reached near 100 degrees.
"She played great, and you never heard a single complaint out of her," he said. "It was amazing what she did under those conditions."
"I like catcher because you get to see action every time," Pleasants said. "The other positions are fun, but you don't always get to see the ball."
Pleasants has had to work closely with pitcher Tatiana Escudero, who's also the youngest girl on the team. For Tatiana's mom, Madelyn, it's been a thrill to watch her daughter play on a bigger stage every year.
"Last year, at the world series, it was just crazy," Escudero said. "The game didn't get out till 2 a.m. But all of [the parents] were just crazy for the team the whole time … A lot of kids on this team haven't experienced the competitiveness of travel ball, so … it's a big accomplishment."
The Oviedo 12-and-under softball team defeated Winter Park in the district and state championships, and will advance to the World Series in Alachua on Thursday, Aug. 2.
The Oviedo 8-and-under softball team defeated Winter Springs 18-1 in the district championship. They placed second in the state tournament and in the Southeast regional tournament, falling to Longwood and Julington Creek, respectively.
The Oviedo 10-and-under softball team placed fourth in the state tournament, but advanced to the Southeast Regional because of a difficult schedule.
The Oviedo 14-and-under softball team were runners-up in the state tournament and advanced to the Southeast Regional tournament.