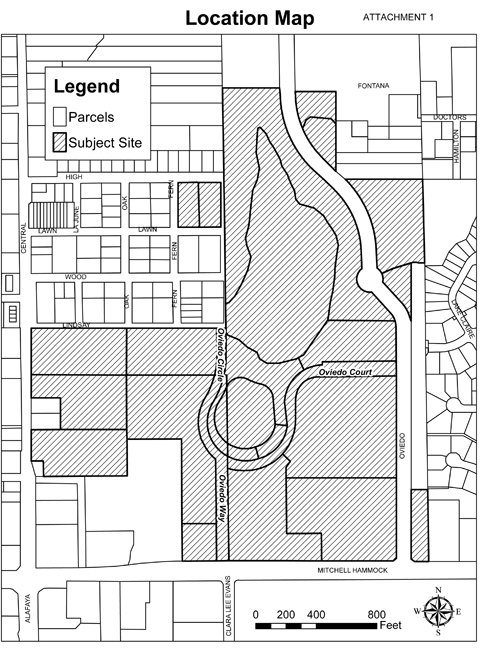 Oviedo's new downtown is set to start rising out of the ground after more than half a decade in limbo. On July 16 the City Council spoke with developer Tom Cavanaugh about plans to build an 85,000-square-foot mixed-use development, with construction of 250 residential units starting in 2013.
But an amendment added into the development agreement by the developer ruffled some feathers on the Council, with members balking at the idea of drive-through restaurants and banks being added to the project.
The developer's attorney, Lee Smith, sensing hostility toward the idea from the Council, proposed an alternative plan that would involve drive-through banks, dry cleaners and drugstores, leaving out drive-through restaurants. Mayor Dominic Persampiere refused.
"What we're debating is that we don't want drive-throughs," Persampiere said. "What we don't want is a Walgreens parked on the corner. I'm personally telling you I'm not supporting this, and we're going to move forward. We discussed this six months ago."
Councilman Stephen Schenck agreed.
"It's a destination, not a drive-through and a drive-by," he said. "That's the key is you get out and walk, not drive by. I think the concept should be concrete in that fact."
Persampiere said his goal was to preserve the original vision of Oviedo's new downtown project, dubbed Oviedo on the Park, as a walkable mixed-use development of homes and businesses with retail and entertainment.
Drive-through restaurants and businesses would change the theme of the area entirely, Persampiere said, cutting down on the amount of visitors parking and strolling along the retail shops.
"That would change the whole intent of it," he said. "It'd turn it into just another shopping center. If that's your intent, then we'll just go with somebody else."
The city hasn't been shy about avoiding developers that wanted to change the original vision of the Oviedo on the Park. Persampiere said that the city had held onto 90-95 percent of the new downtown's original vision by holding steady with its original rules.
But Smith argued that the development agreement as it stood might be too restrictive on proposed businesses that don't meet the city's exact guidelines.
"It's very possible that there are uses you'd like to see that you're not going to get approved because of the development agreement," Smith said.
That might include a popular coffee bar that included a drive-through option.
"We're not expecting that you'd want a drive-through fast food restaurant, we're just hoping that if something like a high-end drive-through like Starbucks, that we'd be able to get it," Smith said.
That's something that Schenck had previously agreed could be a possibility, in general, though he didn't mention Starbucks.
"Yes, if there's the odd exception, there should be ways to get it," Schenck said. "But the overall is that it's a destination, not a drive-by."
Persampiere said that the city had avoided relaxing rules so that further down the line in development the city wouldn't grant so many exceptions that it changed the look of the area forever.
"Let's make no mistake about it, we all want that development there," Persampiere said. "But we give this up, and it just opens that door up. It's something else, and something else and something else. This was made difficult for a reason."
Though the Council decided against the change at the Council meeting, it did pass a resolution for an agreement between the city, developer and landowners for developing amenities and infrastructure in the new downtown, setting into motion what could be the first construction of the project.
"Tom (Cavanaugh), congratulations and let's have that block party," Persampiere said. "Tom, we've busted your chops enough, we'll pay for the hot dogs. I can't wait to see some stuff come out of the ground."