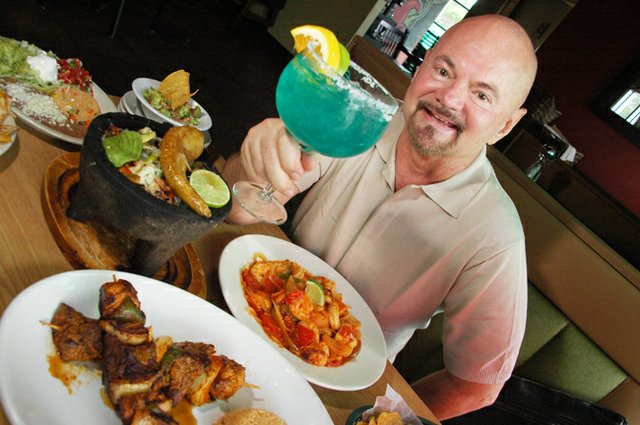 You know that wonderful feeling when you know something is going to be good, and then when you experience it, it's so good that it exceeds all of your expectations? Well friends – that is the case with the authentic Mexican restaurant Señor Tequila on State Road 434 in Winter Springs. Yay!
I love Mexican food, and it's inevitable that I'm going to find my way to all the Mexican restaurants in the area, and I'm happy to tell you that Señor Tequila is way up there in all the important areas. The food is authentic Mexican, the portions are more than generous, and the margaritas are so good that I dare you to have just one.
The claim that "Señor Tequila offers the most authentic Mexican food… it will make your taste buds get up and dance," is a perfect representation of what you will experience. From the Guacamole Mexicano – made fresh each time it's ordered with big chunks of avocado and tomato (really delicious), to the Señor Tequila Sampler, the appetizers let you know right away that this experience is going to be special. I don't know how large a party the Sampler is supposed to feed, but we were three people and we only ate half of all the nachos, quesadillas, flautas and stuffed jalapenos that make up this meal-in-itself family platter of appetizers.
And the entrees were equally terrific. The award-winning Molcajete is served in a bowl created from lava rock and includes strips of beef, chunks of chicken and pork, and shrimp all mixed in with grilled cactus, peppers and onions. It's interesting just to look at, and the combination of tastes make this alone worth the trip, and it's served with the traditional rice and beans on the side.
The second entrée was a generous (again) serving of chunks of chicken and steak on a skewer with vegetables. Called Brochetas, this dish is marinated in a secret house sauce, and it's perfect for the serious meat-eater in your group. I still think I won big time with my entrée of Paella Mexicana. I've had paella all over the world – including Spain – and this unique version of paella is the best I've ever tasted. I even ate slower just so I could savor it longer. It is filled with chunks of tilapia and shrimp with onion and bell peppers and a very special chipotle sauce. I loved it so much that my mouth is watering as I write this. It's perhaps important to add that none of us were able to finish our meals, and we all walked out with carryout boxes.
Señor Tequila is located at 855 E. State Road 434 in Winter Springs in a little mall called the Villaggio of Winter Springs. They are open 11 a.m. to 10 p.m. Sunday to Thursday, and until 11 p.m. on Friday and Saturday. Call 407-542-5912 or visit senortequilamexicanrestaurant.com
We tried two kinds of margaritas, and I love the not-traditional-but-fun-to-drink frozen margarita with Señor's own blend of citrus juices and a hint of Curacao. My friends really liked the True Blue Organic Margarita made with Blanco Tequila and Agave syrup making it a serious blue color. With nine kinds of margaritas, we figured we had nine more reasons to go back and create our own little fiesta with Señor.
By this time we were feeling so good that we were ready to eat anything our waiter suggested, so we threw good sense to the wind and (at least we shared) the lava chocolate cake for dessert. A little 'volcano' of hot, moist chocolate cake topped with a big scoop of ice cream and chocolate syrup – yep, it's as good as it sounds.
Of course, Señor has all the traditional Mexican dishes, including tacos, burritos, fajitas, chimichangas, enchiladas and salads, and by now you've already figured out that this wonderful place comes highly recommended.
And if you've read this far – Señor Tequila will bring your table a free queso (cheese) dip to go along with your free chips and salsa when you tell them, "Josh sent me."