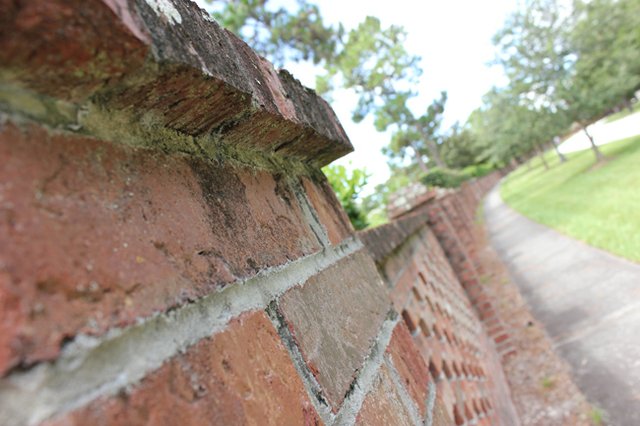 A wall of contention that has stood between the city of Winter Springs and residents of the Tuscawilla neighborhood Units 12/12A for nearly 30 years is slowly starting to come down – both literally and figuratively – whether either side wants it to or not.
Its brick is beginning to crumble and its mortar to crack, and residents of the 90-home community and members of the City Commission have been forced to pay attention. Since it was built in the early 1980s, the 3,000-foot wall, which wraps the external length of the 12/12A subdivision in Winter Springs and lays partially on city, private and easement properties, has never had an explicitly determined owner.
"You're not taking care of the wall, we're not taking care of the wall, who's going to take care of this wall?" Unit 12/12A homeowner Jon Lee asks, frustratedly summing up an issue that he's been dealing with for more than 25 years, and with directly through the City Commission for more than seven months.
After surveys were taken to reveal 61 percent of the wall, the majority of which runs adjacent to Winter Springs Boulevard, stands in city right-of-way, it's been decided that its up to the Commission to decide what to do with it, and how to pay for its repair, replacement or removal. After 250 feet of the 4-foot 8-inch wall were deemed a public safety hazard in May, the issue became even more crucial.
At its May 29 meeting, the Commission decided to form an Ad Hoc committee of seven residents with Steven Richart, the city's Urban Beautification manager, serving as a liaison to help decide the fate of the wall between them. As of the Commission's July 9 meeting, Councilwoman Joanne Krebs volunteered to oversee the committee on the Commission's behave, and it was decided the committee would have three options in dealing with the wall: repair, replace or remove.
"We're faced with an issue the homeowners can't take care of themselves … It's been a bit of a fiasco," Richart said.
After the wall was built by the subdivision's developer, no Homeowners Association was ever established for the 90 homes it circumvents – nor was a name more appealing than "Unit 12/12A" given. And with that, no responsibility for the wall was ever designated, leaving it unmaintained for nearly 30 years, Richart said.
And while the 250-feet deemed a public safety hazard has been knocked down as of July 20, the rest of the wall's fate has not been determined. It's estimated that tearing it down and replacing the wall could cost upwards of $450,000, while repairing and maintaining it would take closer to $10,000 a year.
Councilwoman Krebs said if the wall is removed, 142 trees have been identified that will need to come out. The sidewalk on Winter Springs Boulevard that parallels the wall would also likely been torn up in the process.
"We have to think of what it's going to look like not only to those people who live there, but the citizens who drive down the road — they're going to think a bomb went off," Krebs said. "To do that, that's pretty harsh if there's other things we could do."
Some Unit 12/12A residents, including Jon Lee, say they aren't too happy with the idea of their wall being demolished either, not only for aesthetic and privacy reasons, but for what it will cost them in assessments, as it's likely the bulk of the cost will fall on homeowners in the subdivision.
Also, since there is no homeowners association for the neighborhood, if not rebuilt by the city, individual property owners would be in charge of building their own fencing with no beautification code other than city standards, Lee said.
Unit 12/12A homeowner Annabelle Frilen, who has 3/4 of her property bordering the wall in a corner lot, says if the city takes the wall down and doesn't replace it, she won't hesitate to take matters into her own hands in putting up her own fence.
"I'm not going to wait years for them to replace it," she said. "If it comes down I'll be sitting here fat, dumb and happy… I'm the one that's sitting here naked so to speak when it happens, and I've got to have some protection."
The wall, she says, keeps people out of her yard, from being able to see into her pool and living room, and headlights from beaming through her house at night. Yet when she bought her house 10 years ago, she said no one told her the current wall was her responsibility.
"I don't want to be difficult, but I do want whatever happens for 12 and 12A to be an improvement," she said. "I want the community to actually look like a subdivision."
It could be months until a decision is made, possibly until the end of the year, Richart said. Once the committee membership is finalized, the members have 120 days to come up with a recommendation for the Commission. What happens from then is up to them.
Richart said they have the difficult decision of deciding how to allocate the city's public money and resources for what's best for the 90-home Unit 12/12A community, and the entire population of Winter Springs.
"It's a problem and I feel bad for the city that they have to go through this right now," Frilen said. "But it's about time something is done about it."