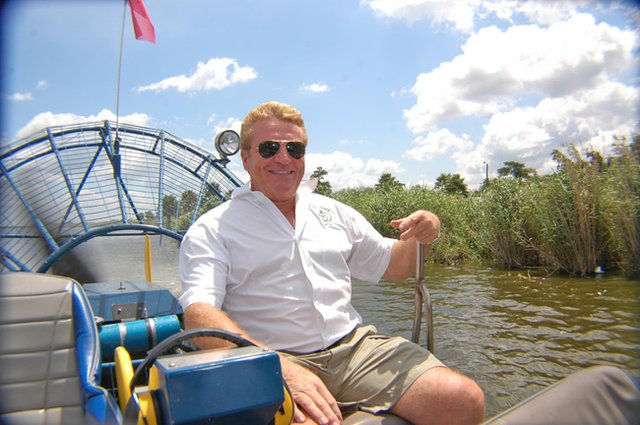 The roar of the giant rotor blade drowned out everything else. Gliding across the choppy waters of Lake Jesup, the airboat dipped and swerved its way around lily pads, baby alligators, and tiny wake waves. Joel Martin, owner and founder of Black Hammock Adventures, sits high up in the driver's seat, a smile spread beneath his black sunglasses as he begins to turn toward the shore. A quick movement in the water, and Joel changes direction and zeroes in on a 4-foot gator.
"Not as aggressive as crocodiles," he said, as its dark green scales disappear into the brushes. "Now those you have to watch out for. They'll follow you around."
Joel would know. In addition to spending most of his time among the reptiles, he keeps one of the largest he's found in a cage next to the gift shop. Hammy, a 40-year-old gator half the size of a car, gives guests an idea of what they're in for as they pass through the faded wooden entryway.
"Alligators can live up to 40 years old, 60 in captivity. It's kind of like being single versus being married," Martin said with a laugh. A natural outdoorsman and adventurer himself, he was born in Paris, France, before living in Africa for 18 years.
With Father's Day approaching fast, it can be tough to think of unique gifts without making a cliché of dear old Dad. Instead of cluttering his closet with another tie, there may be other options to explore.
In addition to the creatures and critters, Black Hammock also features the Black Hammock Restaurant and the Lazy Gator Bar. Every Sunday in June, the restaurant offers 2-for-1 Bloody Marys, as well as a Father's Day Special of Black & Bleu Sirloin with mashed potatoes and mixed vegetables for $17.99. The restaurant also showcases multiple bands, playing country rock, blues, jazz and even disco for its patrons.
"We can keep people all day here," said Martin. "They can go to the bar, have lunch, have a beer, then go on an airboat ride … Nobody can compete with what we have here."
Black Hammock Adventures is located at 2356 Black Hammock Fish Camp Road in Oviedo. Airboat rides leave every 30 minutes between 9:30 a.m. and 5:30 p.m., and cost $25.95 for adults and $20.95 for children 10 and younger. All other rides, including those for 45 or 60 minutes, or 15 minutes at sunset, must be reserved ahead of time. For more information, call 407-365-1244 or visit theblackhammock.com
Fun on four wheels
But if sightseeing wildlife isn't all you want to do, there are other options. The Lil 500 Go-Cart Track has been around for 43 years, and doesn't show any signs of slowing down. In fact, if anything, it's speeding up.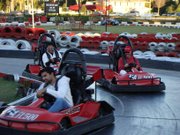 Offering three different tracks, all rides are $4 each. The Family Track uses double-seaters, and even includes a steering wheel for the passenger. For kids slightly older, the MotoTrack allows single riders and is more off-road style. Finally, for ages 10 and older, the Fastrac is the most challenging course of all, with an oil-slicked speedway for harder, hairpin turns.
The cars can be "too fast for some, too slow for others," said Fastrac manager Don Schmidt. Founded by Ron Kline, Lil 500 has remained a family establishment, and offers something for drivers with a lead foot. "Boys always like riding," said Schmidt. "So do the dads. (They) like the opposition, the challenge."
Lil 500 Go-Karts is located at 150 Atlantic Drive just north of Maitland. Their hours are 10 a.m. to 10 p.m. Monday through Thursday, 10 a.m. to 11:30 p.m. Friday and Saturday, and 1 p.m. to 10 p.m. on Sunday. They offer three different racetracks. The Family Track is for all ages, and offers double-seated go-karts with two steering wheels, so both parent and child may steer. The Moto Track is for drivers age 8 and older. The Fastrac is for drivers 10 and older, and allows to drivers to drift their go-carts. All rides are $4 per person per ride. For more information, call 407-831-2045 or visit lil500.com
Bonding on a boat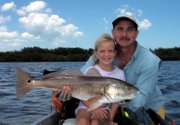 If speed isn't up your alley, whether it's on a go-cart or an airboat, then perhaps fishing will slow your day down. Captain Tom Van Horn of Mosquito Lagoon Fishing Charters offers guided fishing tours on his 17-foot Maverick Master Angler called "Three Quarter Time".
Van Horn, who has been running chartered tours for 16 years and fishing for another 14, offers 5- and 8-hour trips for two to three passengers. His voyages include trips down the Indian River, Mosquito Lagoon and the Port Canaveral Lagoon, where fishermen can expect to catch tarpon, kingfish, snook or cobia. Van Horn also explores the St. John's River, where he said father and son can expect to catch a few bass.
"A lot of people don't have time to spend with their kids anymore," said Van Horn. "This is a great opportunity to spend time with your children. When you're fishing, it's a captive audience."
Last year Van Horn took a 75-year-old father out fishing with his 35-year-old son — one of his favorite trips. That moving moment still stands out to him.
"That was probably his last opportunity to spend time with his son," he said.
Mosquito Lagoon Fishing Charters is located at 540 Lake Lenelle Drive in Chuluota. Captain Tom Van Horn offers light tackle saltwater and freshwater fishing tours. For five-hour tours, the price is $375.00. For eight-hour tours, the price is $450.00. Captain Tom can accommodate two people, with an additional third person costing $75.00. For more information, call 407-366-8085 or visit irl-fishing.com