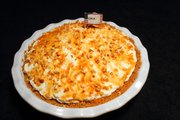 Seminole State teacher wins pie prizes
John Sunvold of Winter Springs, a speech communications teacher at Seminole State College, took Best of Show for his cream category entry, Peg's Banana Cream Supreme Pie, as well as first place in the apple category for his The Apple of My Eye Pie at the 18th Annual APC/Crisco® National Pie Championships held April 27-29 in Orlando. Sunvold won Best of Show in 2008 for his U.S. Route 1 Florida Key Lime with Maine Blueberries Pie.
Sunvold created the pie based on a favorite dessert he enjoyed as a child and has worked on perfecting the recipe for three years. "Since the ingredients make it a top-heavy pie and the graham cracker crust doesn't offer much support, I really had to work to perfect the recipe," Sunvold explained.
"Each year, my sister comes down from Chicago to compete with me. Last year, I entered this pie, but we ran out of room in the refrigerator so I never ended up submitting it," he recalled. "My wife, Peg, scolded me for submitting other pies over this one, so I let her choose the name for this year's entry, which is where Peg's Banana Cream Supreme comes from."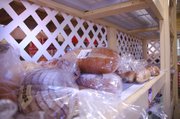 Heal your hunger and help HOPE
Three local businesses are donating a portion of their profits to HOPE Helps to help families in your community!
Tijuana Flats: every third Tuesday of the month, 5-9 p.m.
Locations: 1016 Lockwood Blvd., Oviedo or 160 Tuskawilla Blvd, Winter Springs
Marco's Pizza: Every fourth Thursday of the month, 11 a.m.-10 p.m.
Location: 1977 Alafaya Trail, Oviedo
Menchie's Frozen Yogurt: first Tuesday of every Month, 5-9 p.m.
Location: 5220 Red Bug Lake Road, Suite 122, Oviedo
*Be sure to tell the cashier you are eating for HOPE. Visit hopehelps.org for more information.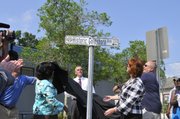 Historic street renamed to commemorate Goldsboro's founding
On May 31, there was a ceremony renaming the portion of 13th Street from U.S. Highway 17-92 to Dixie Way as Historic Goldsboro Boulevard at the Goldsboro Westside Historical Museum located at 1211 W. 13th St. in Sanford to recognize Goldsboro's heritage. This mile-long section, originally platted as Goldsboro Avenue, played a vital role in Florida's second black-incorporated town.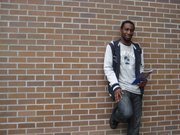 Seminole State student publishes P.O.E.M.
Aldrin Hicks has a lot to say, and his outlet is poetry. The 25-year-old student at Seminole State College of Florida has published a collection of 31 original poems, ranging from autobiographical to speculative and touching on the themes of love, loss and life. His collection, "Personal Organized Emotional Material (P.O.E.M.)," gives readers a sampling of rhymes and free-verse poetry. P.O.E.M. is available in paperback print and e-reader editions through online retailers including Amazon.com and BarnesAndNoble.com, as well as through the publisher, AuthorHouse, at AuthorHouse.com
Student honors
Local Oviedo students graduate from Georgia Tech
The Georgia Institute of Technology presented degrees to approximately 2,500 undergraduate and graduate students during the Institute's 242nd commencement exercises.
Brian Calahan of Oviedo received a B.S. in Industrial Engineering.
Jarrod Hajek of Oviedo received a B.S. in Mechanical Engineering.
Local students earn honors at military college
The Citadel, The Military College of South Carolina, honored the following students for academic excellence during the spring semester of the 2011-2012 academic year:
Vanessa Aponte of Winter Springs — business administration major.
Alexa Rose Dahlstrom of Oviedo — criminal justice major.
Winter Springs student makes dean's list at DePaul
Katherine Mendoza of Winter Springs made the dean's list at DePaul University for the winter quarter of 2012.
Oviedo student makes magna cum laude
Ariel Dickinson of Oconto, Wis., joined fellow seniors during the 146th Commencement of Ripon College on May 13. Dickinson was a magna cum laude student and majored in mathematics. She is the daughter of Mr. Jonathan J. Dickinson of Oviedo, and Ms. Susan M. Van Hulle of Oconto, Wis.
Local student makes top marks at Georgia College
Katherine Genova of Oviedo completed courses with exemplary marks and made the dean's list for the 2012 spring semester at Georgia College in Milledgeville, Ga.
The Chamber has an app for that
The Oviedo-Winter Springs Regional Chamber of Commerce recently released its My Chamber App for the iPad, iPhone, Android and Blackberry. The My Chamber App allows chamber members and the public to access information on Oviedo-Winter Springs happenings and chamber progressions, previously unavailable except via the chamber website. Download the app at the Apple App Store or MyChamberApp.com