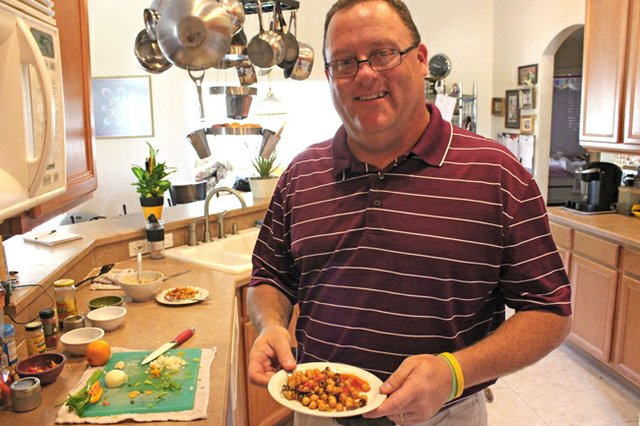 For the recipe for Schenck's second place finishing "Oviedo's Own Citrus Ceviche" from the Taste of Oviedo's Citrus & Celery Cook-Off earlier this year, click here. The winning trick is to cut up the ingredients very fine, he says, "so you can get a little bit of everything when you take a bite."
Like a golfer giddy to play with his new putter, or a painter excited to try out a fresh set of brushes, Oviedo Councilman Stephen Schenck is eager to put his new ceramic knife to the test in the kitchen.
As he does every morning, Schenck raids his family's fridge and gathers odds and ends he can find to make into breakfast, the same way he would when he first started experimenting with cooking in college. Only today he finds Garbanzo beans, olives, onions and fennel instead of the eggs and ends of meat he'd find then, salvaged from the sub shop where his roommate worked.
"That's how I really learned to cook — it was out of necessity in college," he says. "I would, and still do, just take stuff and put it together and hope for the best."
He's known to measures ingredients in "this and that much's," barely bothering to stick to a recipe, on the off chance he has one. But when the cooking gets good — like the Duda Professional Taste award-winning "Oviedo's Own Citrus Ceviche" Schenck placed second with in this year's Citrus & Celery Cook-off — those this and that's make dishes that much harder to recreate, and he's forced to keep track.
At work Schenck has a few members of the City Council who are probably willing to pay him off for the recipes he brings to their annual University of Central Florida football tailgates.
"I'll bring the utensils, what ever he needs as far as the charcoal and the barbeque, and he'll bring just these amazing Hawaiian chicken sliders or spicy pork — you'll never know what we'll get," Oviedo Mayor Dominic Persampiere said. "Our tailgates are never just hamburgers and hot dogs — Schenck doesn't allow that."
Persampiere said he doesn't know what Schenck does that makes everything so good, it just always is.
"I will say that Councilman Schenck has outstanding culinary talent," he said.
At home, his wife, Doris, says Schenck's knack of putting things together — making them good, but not remembering what he put in — can make her job frustrating when he's not around.
"He'll be out at a Council meeting or something, and the kids will ask me to make something he makes and I'll try, but I never really know how he does it. Then the kids will always tell me, 'Mom, it was good, but…," she says, trailing off with a laugh, admitting that she knows they're right.
Click here for Stephen Schenck's Fish in a Bag recipe.
Luckily Schenck's secret cooking code rarely needs to be cracked. On Sundays he takes over the kitchen, preparing homemade lunches and some dinners — if he won't be around to make them fresh — for his family for the week. He'll stake out the kitchen while everyone's gone, turn on the Cooking Channel or Food Network and get to work.
The solace some may find in golf or painting, Schneck finds in chopping, armed with his new knife and a cutting board.
In City Hall, business is his aim, but at home, he says, slicing and dicing is his game. There's nothing, he says, like a good, sharp knife. When you cut a tomato just right, easily puncturing the skin having it run right through, that's where Schenck finds his peace of mind.
"I like to chop — it's my way of zoning out. … Everyone has their thing that they do that helps them tune out from other things, I chop," he said.
On this Monday morning he breaks out his new knife to chop up some breakfast. Cooking for himself, repetition and his own palate are his only guides. It's all about what feels right.
This mix of garbanzo beans, olives, peppers, fennel, garlic and a last-minute splash of lemon juice — you can't forget the acid, he reminds himself — that's sizzling on the stove is the same he makes most mornings. Sometimes there's more spice, others less, he jokes, depending on how awake he needs to be that day.
"It's that time when you're cooking that you can use to think of all the things you're not usually thinking about," he said. It's a time where city budgets disappear, and the stack of papers on his desk down the hall no longer beckon his name.
But in the end, his favorite part of cooking, he says, "You get to eat!"