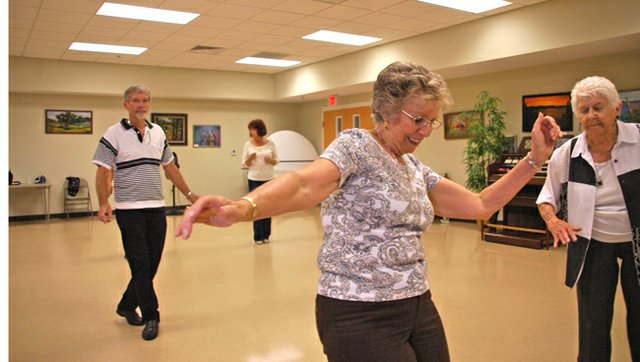 "Left, right, step step step. Left, right, step step step," repeats Joan Lichtenberger, her footsteps echoing across the hardwood floor. Another 15 pairs of loafers, slip-ons and flip flops follow her cowboy boots in unison, stepping to the sound of "Shake Me, I Rattle." The country beat fills the room as the line dancers bounce and sway their hips to the music, smiles spread across their faces.
"Left, right, step step step," Lichtenberger shouts. She moves a little too quickly, gets off a beat, and soon the whole formation behind her is out of step. The music stops, replaced by an eruption of laughter. Most of the dancers are beginners, and many of them are beyond a peppering of gray hair, though as soon as they realize what happened, they chuckle like toddlers.
"OK, OK," Lichtenberger says. "Let's start over. Don't forget to give it your attitude."
"I'll give you plenty of attitude," a grey-haired gentleman shouts from the back, as he whips his body around a furious 360 degrees. 'Spinning' George, as they call him, may be the only man on the dance floor, but doesn't exhibit any signs of shyness.
"We just like to have fun, be silly with it," said George, who, along with his girlfriend Ann, waltz, tango, and even perform the occasional Irish jig. "We come for the social aspect. It's exercise, and it's better than sitting in a recliner chair."
For many of its members, the Winter Springs Senior Center is the best way to shake off their years and do what they enjoy. The facility began in 1987 as an offshoot of the Winter Springs Civic Center next door with only 18 members. But with help from the city of Winter Springs, the center has grown to more than 1,000 members, and has seen plenty of expansion over the years.
A therapy pool bubbles away in its own room, installed five years ago to provide the opportunity for water aerobics and exercises. A fully equipped computer room offers classes teaching everything about computers, from checking your email to surfing the Internet. Next to the cafeteria, pool players circle two billiards tables, sizing up their shots next to the numerous tournament plaques adorning a wall.
The center also provides free transportation to and from their facility for residents of Winter Springs, one of the only centers in central Florida that offers that service.
"We're the only ones in Central Florida who actually care about our seniors," Susie Coffman, the director of the center since 1989, said. "The city takes excellent care of us."
Even in times of economic stress, Winter Springs has not reduced its services for the elderly, said Joanne Krebs, city commissioner for district five. "The good thing is that services haven't been reduced. We have looked for ways to hold off on something to buy or looked at things differently … But I do not recall reducing anything for the seniors."
Krebs is currently pushing for playground equipment for adults, such as stationary bikes, at local parks around the city, which could benefit senior citizens as well. To her, the variety of classes offered really makes Winter Springs stand out from other centers.
"What works for some who are physically able doesn't work for others (who aren't)," said Krebs, referring to the yoga and dancing classes that the center offers. "They're continually looking at new things that haven't been offered in a long time, (and) continuing forward motion on what hobbies people want to do."
One of Krebs' favorite activities is the center's ceramics class, where members can craft their own sculptures and take advantage of the kiln. Laura Domenech, a program coordinator at the center, relays the story of a senior member who worked on a piggy bank for her granddaughter, only instead she crafted an "alligator" bank. After working on the project for months in class, it was a special moment when her work was finished.
"You would've thought I'd given her the world, when it came out of the kiln," Domenech said. "Her eyes just lit up."
For many of the seniors, the club's activities are the only form of socializing they get every week. "There are times that this is your only outlet," Domenech said. "We tell them, 'Just do what you can do. Every little bit you do accomplishes something."