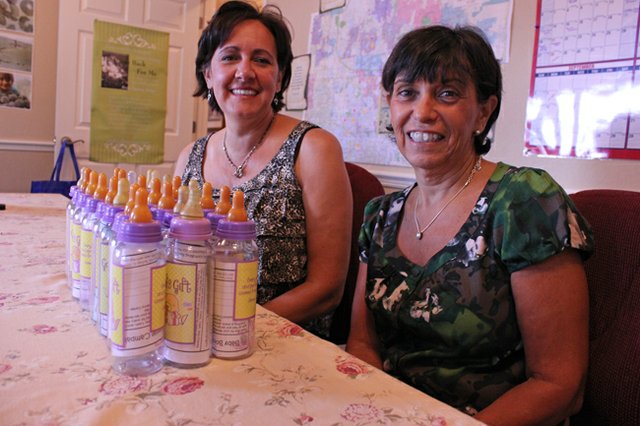 For 10 years Nicole Gallagher spent her life on the streets of Sanford near the Sanford Crisis Pregnancy Center.
It was where she worked, as a prostitute moving from corner to corner. Where she lived, crashing on couches of boyfriends and bosses. And where she played, getting fiercely addicted to crack cocaine.
It wasn't until 2009 that she finally climbed the stairs up and into the white panel-and-brick building off of U.S. Highway 17-92 with good reason — she was fairly certain she was pregnant.
As with any woman who walks through the Center's doors, volunteers greeted Gallagher and walked her through the process they've been perfecting for 14 years. Come in. Sit down. Fill out a form for filing purposes. Take a free pregnancy test. Then go through counseling and assistance based on the results. It's the same Rolodex of resources they'll offer the Oviedo community when they open their second center there in early fall.
"Our job is to be the help, the hands and the heart for her," said Andrea Krazeise, executive director of the Sanford Crisis Pregnancy Center.
For Gallagher, the results were positive. She was educated on her three choices: keeping the baby, giving it up for adoption and abortion. For the third option, following the Center's faith-based program, they educated her on the procedure, but left the rest in her — and God's — hands.
"She came in wanting an abortion, but knowing she wouldn't pay for one," Krazeise said. "Instead she thought the crack would kill it."
Unable to offer her more than advice, a clean set of clothes and literature on her options, Gallagher went back to the streets and Krazeise and her staff started to pray. She said they prayed for Gallagher's "little one" every day. Krazeise said she would see Gallagher out the center's windows, still "working" as her belly grew.
Krazeise encouraged Gallagher to clean up her act, but it continued until at six months pregnant, she landed in jail. After five weeks in, clean and sober, Gallagher was bailed out by a friend on Christmas Eve. And an 18-hour crack-binge later, she ended up in premature labor on Christmas day. Krazeise's prayers turned to reality as the little baby girl was born with a clean bill of health, and Gallagher decided to adopt her out to the couple the Center found and agreed to seek treatment.
"Andrea encouraged me to change my life," Gallagher said. "It is because of her and her colleagues today that I am clean and sober after 10 years out there…. I couldn't have done it without the Sanford Crisis Pregnancy Center — they played the main role in my transformation."
Serving Oviedo/Winter Springs
Stories like Gallagher's, Krazeise said, may not be the norm, but they are the proof of the power of the services the Pregnancy Crisis Center will offer the Oviedo community this fall.
She estimates that the Sanford center serves anywhere from 100 to 125 girls a month, with the majority being between the ages of 14 and 24, most age 16 or 17.
"We try to educate girls on their new reality, then we have to respect their free will," she said. "We have to trust that she's going to make the best decision for her."
Krazeise and Cindie Thomas, who will direct the Oviedo center, point to a map of Orange and Seminole counties that hangs in the Sanford center's board room as proof as to why they chose Oviedo for their second location.
The map has neon circle stickers with happy faces on every pregnancy clinic, and sad faces on every abortion clinic. "There's too many sad faces," Krazeise said. "It is an underserved community."
The Oviedo Crisis Pregnancy Center is set to open in late-August or early fall of this year at 441 N. Central Ave. on the corner of Central and Magnolia avenues. For more information about the services that will be offered, and to keep updated on its progress, visit SanfordCPC.com and click on "Oviedo Crisis Pregnancy Center."
A community, Thomas says, that will offer a different clientele than those served at the Sanford center, but one with no less of a need for their services.
"With the college (the University of Central Florida) and all the high schools nearby, we see a large need," Thomas said.
From the banner hanging outside the new location, she said, she's already started receiving client calls. When the Oviedo location is complete, likely by mid-August, it will house three counseling rooms, a library and an "Earn as You Learn" store where moms-to-be can shop for supplies for themselves and their baby with credits earned by taking courses at the center.
"They really have everything they need here," Thomas said. "We provide all the ways we can to help them develop and grow."