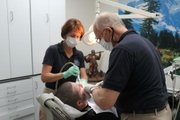 Free dental work
Dentist Dr. Tim Chatterley, of Bright Smiles Dental in Casselberry, offered residents of Casselberry and surrounding communities free emergency dental treatment on Friday, Feb. 10. The free dental treatments were given at Dr. Chatterley's office located at 1012 State Road 436, in Casselberry. "It was a large turn-out and around 70 to 80 people showed up for our free dental day," Chatterley said. Details of Dr. Chatterley's other community events can be found online at dentistcasselberryfl.com/index.php/category/community/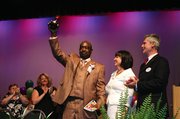 18-year employee honored
In a recognition celebration held at Lyman High on March 15, George Beasley was named the 2012 School-Related Employee of the Year for Seminole County Public Schools. A custodian and plant manager at Seminole High School in Sanford, Beasley has worked his entire 18-year career with the district at Seminole H.S. Superintendent of Schools, Dr. Bill Vogel, "opened the envelope" and made the surprise announcement of the winner's name during the program.
50th Anniversary Planned
Oviedo High School is planning a 50th celebration of our football field. We are looking for coaches, football players and cheerleaders from the inaugural 1962 teams and their families. Please contact Angie Williford at 407-320-4023 or Patty Blake at 407-320-4136.
Bush announces House run
John F. Bush—the former three-term mayor of Winter Springs, long-time leader in local Republican politics, and veteran educator who holds a Ph.D. in Guidance and Psychological Services—announced his candidacy today for the Florida House of Representatives in the new district that will result from the recent statewide redistricting, combining areas from both the former District 33 and District 34. Visit johnbushforstaterep.com.
Community Police Academy open
The Oviedo Police Department is now accepting applications for the 2012 Community Police Academy (CPA). CPA participants meet every Tuesday from 6 to 9 p.m. for 11 weeks. Classes begin April 10 and conclude June 19. The CPA is free of charge and seating is limited, filled on a first-come basis. Applicants must be at least 18 years of age and must pass a limited background investigation. Applications may be picked up at the Oviedo Police Department; 300 Alexandria Blvd., the Oviedo COPS and Volunteer Center in the Oviedo Mall just outside of Dillards, or printed from the website at CityOfOviedo.net. For more information contact Lt. Tony Velez at 407-971-5706.
School news
Free school supplies
Seminole County-based Dixon Ticonderoga Co., the world's leading supplier of quality writing and art supplies including Prang Art Markers, kicked off the nationwide program, "Prang Power," on March 9, allowing schools to receive free writing and art supplies in exchange for UPC labels from any Dixon-family product. For details and to participate, teachers can register at PrangPower.com. Timothy M. Gomez, Dixon Ticonderoga's CEO, also announced plans to donate up to $150,000 through Prang Power to the Kids in Need Foundation. The nonprofit organization provides free school supplies nationwide to students most in need.
Dean's List
Rachel M. Buffalo, of Longwood, a freshman, was named to the Dean's List of Mercer University's Eugene W. Stetson School of Business and Economics for the fall 2011 semester.
Seminole gets an "A"
For the third year in a row the Seminole County Public Schools website has been awarded an "A" Transparency Grade on Sunshine Review's Transparency Checklist. Of the more than 6,000 government websites ranked by Sunshine Review 214 earned this award.
Player of the week
Seminole State College sophomore Kristie Hoeffer has been named the National Junior College Athletic Association (NJCAA) Division I Softball Player of the Week for March 5-11. She earned the honor based on her peerless efforts and remarkable offensive contributions in the Raiders' three games last week.
Academic team named
Five Seminole State College honors students have been named to the 2012 Phi Theta Kappa (PTK) All-Florida Academic Team. The students — all members of the College's Art & Phyllis Grindle Honors Institute — will represent Pi Lambda, Seminole State's chapter of PTK. They were selected for the team based on their academic success, leadership skills and community involvement.
The students include:
• Mary Anderson, 45, of Winter Park, was instrumental in bringing PTK meetings to the Altamonte Springs Campus. She serves as executive vice president of the College's PTK Chapter at the Altamonte Springs Campus.
• Medge Parcily, 44, originally from France, moved to Winter Park in 2009. She serves as a vice president for PTK at the Oviedo Campus. After graduating in April, she plans to study psychology on her way to a graduate degree. She hopes to work in the emerging field of energy psychology. She also volunteers with the Orlando Junior Chamber of Commerce and paints abstract art.
Biz news
Booth space available
There is still vendor booth space available for the Founders' Day Event on March 31 at the Rural Heritage Center in Geneva. If you would like to have a vendor booth at the event, the cost is $10. Please contact ruralheritage@gmail.com.
New meeting space
Oviedo Mall is proud to announce their newly designated Community Room. Prior to a defined space, groups were meeting in what was commonly referred to as 'the former FYE'. Having a space specifically for the purpose of business meetings, non-profit group gatherings and merchant training sessions is an added amenity provided by Oviedo Mall and a key service to the community. The community room is located across from Pet Rescue by Judy and the soon to be location for Brow Art 23. To receive an information packet on the community room, please email brickeyj@urbanretail.com.
Theology professor published
Dr. Reggie Kidd, professor of New Testament at Reformed Theological Seminary's Orlando campus, has contributed the editorial commentary for the Pastoral Epistles (I and II Timothy and Titus) in The Baker Illustrated Bible Commentary released March 1 by BakerBooks.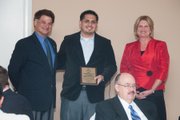 Business of the Year awarded
On Saturday, March 3, the Casselberry Chamber of Commerce hosted a gala where Tijuana Flats' Casselberry location was honored with the 2011 Business Enterprise of the Year award. The Chamber chose Tijuana Flats to receive this award because of their active role in the community, including sponsorship and support of the following initiatives: Movie in the Park, K.I.S.S. – Kids Supporting Soldiers, School Nights, and many more. The Casselberry Tijuana Flats is a franchised location owned by Robert Cawthorn. To learn more about Tijuana Flats, visit TijuanaFlats.com
Send submissions to editor@observernewspapers.com
Volunteer opportunities
Crochet for a cause
Angel Snugs, a Lake Mary non-profit created for children with cancer, is in need of volunteers and donations. "Snugs" are knitted and crocheted scarves and beanies that are donated to children while undergoing life-saving treatments. They're called "snugs" because they are soft and snuggly and, when wrapped around the child, are like a hug. The recipient hospitals cover the state of Florida and the list has grown since Angel Snugs was placed in the American Cancer Society's national database as a patient resource. To learn more, please contact Angi Farrugia at angi@angelsnugs.org.
HOPE Helps volunteers needed
Volunteers are needed in the thrift store and food pantry Monday through Saturday between 10 a.m. to 5 p.m., working 2-3 hours at a time. Volunteers sort donations, price goods, stock the store and pantry, assist customers in the store and food pantry, and have fun. They also need volunteers to work at the welcome desk and to pick up donated food from local grocery stores and specialty stores once a week. Please contact Karol at volunteer@hopehelps.org if you would like to volunteer for any of the above.