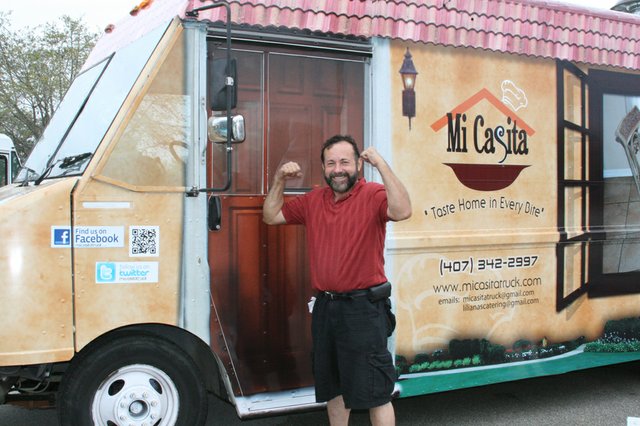 The winners are:
Top Sales - New Smyrna's' Cafe Heavenly
Largest food item - Miami's' Mojo on the Go
Truck appearance - Miami's' My Mad Scientist
Gourmet Food - Tampa's' Off the Griddle
People's Choice Award - Oviedo's very own TJ's Seafood Shack
Food Truck Crazy is bringing Food Truck Wars to Orlando. There will be no firing tomatoes at each other or sabotaging the soup, but there will be plenty of delicious competition when the trucks roll into Oviedo on Saturday, March 31.
Forty trucks from across the state will be vying for awards in five categories during Orlando's first ever Food Truck Wars.
The People's Choice award will go to the truck that gets the most fan votes. Orlando trucks have developed quite the following in recent months, so out of town trucks will have to work hard to impress if they hope to win this category.
In the Chef-Off, trucks will present their best dishes to a panel of six judges, including instructors from Le Cordon Bleu and the Rosen College of Hospitality Management. The winner gets bragging rights — until next year.
Highest food sales may be the easiest category to win. The rules are simple: make something delicious and sell a lot of it. The truck that sells the most, wins.
A couple of local trucks will definitely be in the running for the Most Fun Food Truck Appearance award, which will go to the truck with the best theme, paint scheme and decorations. Look for Sno-Awlins with their Mardi Gras theme and Kona Dog the Hawaiian hot dog truck to do well.
The biggest event, literally, will be the Largest Single Food Item category. Competitors will create a jumbo version of their specialty, whether it be a giant cupcake, bowl of shredded pork or enormous coffee, the biggest, most creative item wins.
Regardless of who takes home the prizes, the real winners are the fans and community who get to enjoy this latest evolution of the food truck trend.
"I love the idea," said food truck regular and Oviedo resident Cynthia Anaston. "We always have a great time and it's a fun community thing."
Even in the rain, Anaston came out with her family to enjoy the good eats and company at the latest food truck gathering.
"It's a great way to spend time together," she said. "First we saw a movie, now we're having dinner here and there's always something different to try. I've tried Vietnamese cuisine, Spanish food, fish from TJ's Seafood Shack and now I'm having Caribbean food from Catering by Edna, which is great by the way."
Besides enjoying good food and family time, Anaston found time for something rare these days.
"I had a chance to say hello to neighbors," she said. "Nobody ever gets to do that anymore, [these events] bring that back in a way."
That's exactly what Liz Otts, organizer of Food Truck Wars had in mind when designing the gatherings.
"I'm an Air Force brat," she said. "One of the ways we got to know each other and form friendships was to have big block parties. They were my inspiration.
"I had hoped it would be a way for families to get out, away from the house, so mom doesn't have to cook and socialize with friends, try new things and still be together."
Even the food trucks themselves seem to harken back to a bygone era, with their gleaming stainless and overdose of kitsch, all in good taste, of course.
Just past all that façade though, treasures await the epicurious adventurer.
The line for Kleber Sanchez's truck, Mi Casita, was ten deep for good reason.
His wife Liliana cooks up a mean empanada straight from Ecuador. Before the Sanchez family emigrated here 27 years ago they had a family run restaurant back home with a familiar name.
"That was the original Mi Casita…My Little House, " he said. "It had another name, but everyone always said that eating there was just like eating at home only better, and the name stuck."
Their newly decorated truck indeed looks like a little house where guests enjoy meals just like the Sanchez' make for their three kids and six grandchildren, when they can get them all together.
Many food trucks began as rolling versions of restaurants, but not many can say they began as a coffee shop, from Alaska no less.
That distinction goes to Café Cocoa Mo whose owners Doug and Wendy Johnson, headed south for warmer weather and to bring a taste of the Northwest coffee tradition to Florida.
Coffee may be their specialty, but for something unique, try their Italian sodas, rich, creamy and flavorful -- they're a big hit with the kids.
Save room for the dessert though, because Sno-Awlins is serving up something that will send you straight back to Mardi Gras.
It starts as a pristine block of ice, created special for this purpose. Then in an authentic New Orleans ice shaver some sort of magic happens and out comes ice like a fine dusting of new snow. Shaped into a ball, with a generous dousing of custom flavor and perhaps some sweetened condensed milk, there you have it, heaven in your hands, all for just $2.
With forty trucks to choose from it will be difficult to pick just a few to sample, but well worth the effort if the current offerings are any preview.
In addition to the food trucks, there will be live music, a silent auction and a beer and wine garden. Proceeds from the auction and garden will go to the Oviedo Optimist Club to benefit local organizations.
Turns out it's a win-win for everybody.
Food Truck Wars kicks off at noon on Saturday, March 31, and runs until 6 p.m. in the parking lot of the Oviedo Mall. Forty trucks compete for your votes in five categories, to see who will come out ahead.