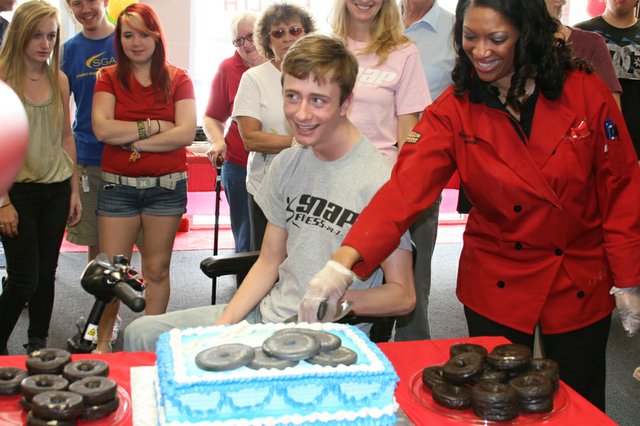 Hagerty High School senior Jordan Murphy wants nothing more than to be a typical teenager. He wants to wake up in the morning, stride confidently out the front door and drive himself to school. He wants to pursue his dreams without thinking about his health.
He wants to look forward to what the future holds, not worry about it.
But as he looks into the future, he has to come to grips with a disease that he'll live with the rest of his life.
Murphy has Friedreich's ataxia, a degenerative condition affecting the parts of the brain and spinal cord that control coordination and muscle control.
Though he was perhaps less competitive on the surface while playing volleyball and T-ball in elementary school, at age 9 that started to change. Some time around then his parents noticed he walked a bit differently, and it seemed to be getting worse.
They took him to a podiatrist, thinking he had flat feet, like his father. Turns out his gait was ataxic, a word from the Greek meaning irregular or without order. It was a hint, but doctors still couldn't pinpoint the cause.
In sixth grade, a standard scoliosis exam administered through the school showed signs of curvature of the spine, another clue in his impending diagnosis. For the next three years, he would sleep in a back brace his parents helped him into every night.

This would keep his spine straight enough to allow him to grow normally for as long as possible.
Following months of grueling tests, constant poking and prodding and agonizing waits between doctors visits, the diagnosis they dreaded finally came down in March 2006, St. Patrick's Day to be exact, his mother, Jody Murphy, said.
Dreaded because Friedreich's ataxia is an inherited disease that had already appeared in Murphy's family. Shortly before his own diagnosis, they found out his cousin Michael also had the same condition.
Together, Murphy and his family began to sort their way through each new challenge, first the back braces, then in ninth grade the surgery to fuse his spine. But he bounced back, and has kept up a positive attitude ever since.
"Ninety-eight percent of the time has a smile on his face, he tries to be positive, he enjoys interacting with people, the other 2 percent is maybe when he'll have a fall or do something that will jolt reality right back into him," Jody Murphy said.
"I think to myself he inspires me every day," she added. "I hear him get out of bed and I'm thinking OK, well, if he's getting out of bed, I'm getting out of bed. He's just really driven."
That strength showed up after Murphy's first surgery when despite the doctor's predictions he returned to walking full time.
It would only last a little while though.
Because Murphy's condition is degenerative, his muscles grow steadily weaker. By senior year at Hagerty, he began to use a scooter to get around.
Like other young men, Murphy longed to work out and hit the gym after school. He wanted to be as strong as he could be.
His dream came true not too long ago when he mom happened to mention it to a friend whose husband is a trainer.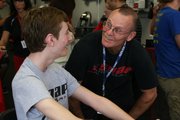 The trainer, Chris Booth, took Murphy's story to his boss at Snap Fitness in Oviedo, offering to train him for free if the owner would agree.
Jim Pridemore, Snap Fitness' owner, was happy to agree and Murphy became a regular visitor to the gym, training three times a week with Booth.
"He's a character," said Booth. "I push him just like any other client. Seeing him make progress is a great feeling."
There's much more progress to be made though, and to make this possible, Murphy's mom reached out to the Make-a-Wish Foundation, the charitable organization who grants special requests to children with life-threatening conditions.
"We were surprised by such a practical wish," said Wish Coordinator Christina Alfieri. "Those are the best kind though, because we can get the community involved in granting them."
On Saturday, March 24, Murphy's wish came true. Snap Fitness hosted Jordan Murphy Day, including his favorite foods, pizza and donuts, much to Booth's joking chagrin.
Jordan works out at Snap Fitness at 1949 County Road 419 in Oviedo. The gym is a locally owned 24-hour facility catering to families and seniors. Visit here.
The day celebrated Murphy and the official granting of his wish: a gym membership for him and his family including 60 training sessions with Booth and an evaluation with a nutritionist, both sponsored by United Healthcare as well as many other gifts donated by the community.
While he might not be able to change the course of his condition, Murphy says he has noticed a change since coming to the gym.
"It makes me feel like I am trying at least. I can lift a lot more, when I first came here I was doing 20 pounds on the seated row [machine], now I'm doing 70 pounds."
Beyond high school, Murphy has big plans — he's already been accepted to Seminole State College of Florida and he hopes one day to transfer to the University of Central Florida to study psychology.
"I want to be a life coach," he said.
With all the people he's inspired so far, it sounds like he's off to a good start.